This week's In My Mailbox was the best ever!!
Though spring has finally arrived, birds are chriping nonstop, the weather is sunny and warm (18 Celsius!) it felt like it was Christmas. You want to know why? Because this darling man that works as a postman brought me 7 books (and some makeup I ordered)!! I could have done carthwheels! :-) I don't know how could all the books arrive at the same time, but who cares. :-D
Look at my beautiful goodies:
/ETA: it looks this IMM was kind of Urban Fantasy themed lol ;-)/
Bought:
Magic Bites by Ilona Andrews
Goodreads summary: When the magic is up, rogue mages cast their spells and monsters appear, while guns refuse to fire and cars fail to start. But then technology returns, and the magic recedes as unpredictably as it arose, leaving all kinds of paranormal problems in its wake.




Kate Daniels is a down-on-her-luck mercenary who makes her living cleaning up these magical problems. But when Kate's guardian is murdered, her quest for justice draws her into a power struggle between two strong factions within Atlanta's magic circles.
The Masters of the Dead, necromancers who can control vampires, and the Pack, a paramilitary clan of shapechangers, blame each other for a series of bizarre killings—and the death of Kate's guardian may be part of the same mystery. Pressured by both sides to find the killer, Kate realizes she's way out of her league—but she wouldn't have it any other way…
On the Edge by Ilona Andrews
Goodreads summary: Rose Drayton lives on the Edge, between the world of the Broken (where people drive cars, shop at Wal-Mart, and magic is a fairy tale) and the Weird (where blueblood aristocrats rule, changelings roam, and the strength of your magic can change your destiny). Only Edgers like Rose can easily travel from one world to the next, but they never truly belong in either.
Rose thought if she practiced her magic, she could build a better life for herself. But things didn't turn out how she planned, and now she works a minimum wage, off the books job in the Broken just to survive. Then Declan Camarine, a blueblood noble straight out of the deepest part of the Weird, comes into her life, determined to have her (and her power).
But when a terrible danger invades the Edge from the Weird, a flood of creatures hungry for magic, Declan and Rose must work together to destroy them, or the beasts will devour the Edge and everyone in it . . .
I have read so many wonderful reviews about Ilona Andrews and her UF series that I couldn't wait to get my hands on the first books of her series! Now they are on the top of my TBR pile, can't wait to start reading them.
Moon Called by Patricia Briggs
Goodreads summary: Mercy Thompson's life is not exactly normal. Her next-door neighbor is a werewolf. Her former boss is a gremlin. And she's fixing a VW bus for a vampire. But then, Mercy isn't exactly normal herself.
Patricia Briggs was first recommended to me when I discovered the urban fantasy universe and fell in love with Kelley Armstrong's Otherworld series. I simply cannot say how come I haven't read her ever since. But now I took matters in my hands and ordered the 1st book in the mercy Thompson series!! This came highly praised too, so I hope I'll be in for a treat.
Dark Desires After Dusk by Kresley Cole
Goodreads summary: RITA Award-winning author Kresley Cole continues her bestselling Immortals After Dark series with this electrifying tale of a ruthless demon mercenary and the lovely young halfling who enchants him.A seductive beauty he cannever have, yet can't resist...




Cadeon Woede will stop at nothing to atone for the one wrong that will haunt him forever. But once he secures the key to his redemption, the halfling Holly Ashwin, Cade finds that the woman he thought he could use for his own ends and then forget haunts him as much as his past.A tormented warrior sheshould fear, but can't deny...




Raised as a human, Holly never knew that some frightening legends are real until she encounters a brutal demon who inexplicably guards her like a treasure. Thrust into a sensual new world of myth and power, with him as her protector, she begins to crave the demon's wicked touch.Surrender to dark desires...




Yet just when he earns Holly's trust, will Cade be forced to betray the only woman who can sate his wildest needs -- and claim his heart?
This is the 6th book in the series, I wanted to buy this before Christmas when I ordered the 5th and 7th books, but they ran out of stock so I had to read the series skipping Cade's story until now.
Won:
I have discovered so many highly praised authors - previously unknown to me - thanks to book blogs, I can't wait to read their books.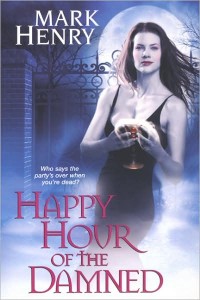 Happy Hour of the Damned by Mark Henry
Goodreads summary: Seattle. One minute you're drinking a vanilla breve, the next, some creepy old dude is breathing on you, turning you into a zombie. And that's just for starters. Now, the recently deceased Amanda Feral is trying to make her way through Seattle's undead scene with style (mortuary-grade makeup, six-inch stilettos, Balenciaga handbag on sale) while satisfying her craving for human flesh (Don't judge. And no, not like chicken.) and decent vodkatinis.
Making her way through a dangerous world of cloud-doped bloodsuckers, reapers, horny and horned devils, werewolves, celebrities, and PR-obsessed shapeshifters--not to mention an extremely hot bartender named Ricardo--isn't easy. And the minute one of Amanda's undead friends disappears after texting the word, "help" (The undead--so dramatic!) she knows the afterlife is about to get really ugly.
Something sinister is at hand. Someone or something is hellbent on turning Seattle's undead underworld into a place of true terror. And this time, Amanda may meet a fate a lot worse than death...
This is the first in the Amanda Feral series, I have won this from Steph at
Paper Cut Reviews
.
Dead Witch Walking by Kim Harrison
Goodreads summary: The underground population of witches, vampires, werewolves—creatures of dreams and nightmares—has lived beside humans for centuries, hiding their powers. But after a genetically engineered virus wipes out a large part of humanity, many of the "Inderlanders" reveal themselves, changing everything.




Rachel Morgan, witch and bounty hunter with the Inderland Runner Services, is one of the best at apprehending supernatural lawbreakers throughout Cincinnati, but when it comes to following the rules, she falls desperately short. Determined to buck the system, she quits and takes off on the run with an I.S. contract on her head and is reluctantly forced to team up with Ivy, Inderland's best runner . . . and a living vampire. But this witch is way out of her league, and to clear her name, Rachel must evade shape-changing assassins, outwit a powerful businessman/crime lord, and survive a vicious underground fight-to-the-death . . . not to mention her own roommate.
First in the Rachel Morgan/Hollows series, won this from Kenda at
Lurv á la Mode.
The Good, the Bad and the Undead by Kim Harrison
Goodreads summary: Rachel Morgan s back, and in more trouble than ever! Fans of Laurell K. Hamilton and other vampire novels won t want to miss the second novel in Kim Harrison s addicting--and already bestselling--supernatural series.
Former-bounty-hunter Rachel Morgan has it pretty good. She s left the corrupt Inderland Runner Service and started her own independent service. She s survived werewolves, shape-changing demons, bad-hair days, and sharing a church with her vampire roommate Ivy. She even has a cute (if human) boyfriend-what more could a witch want?
But living with a reformed vampire isn t all it s cracked up to be, particularly when your roommate s very bad ex-boyfriend wants her back, and wouldn t mind you in the process. And especially when he s six feet of sheer supernatural seduction, and you ve got a demon mark that makes vampires literally hotter than hell....
To save herself and Ivy, Rachel must confront the vampire master-and the dark secrets she s hidden even from herself.
Second in the Rachel Morgan/Hollows series won this from Kenda at
Lurv á la Mode
.
Thank you Steph and Kenda for these fantastic books!!
And what was in your mailbox this week?