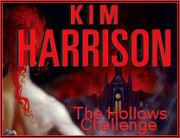 The Rules:
1. Read all eight books in the series plus the novellas. Any format will do.

2. Challenge will run from March 1, 2010 to whenever you finish the read--or February 28, 2011 (whichever comes first); that way we'll have time to read/collect/savor them all.

3. The levels within the challenge are as follows:
1 book=curious
2-3 books=IS Runner in training.
5 books (and a short story or two)=you've been pixed!
all titles=Hollows resident
I'm aiming for
Hollows resident
! :-)
Lately I have come across so many people raving about Kim Harrison and her fantastic Hollows series and because of a stroke of luck having won the first 2 books in the series, so this challenge is perfect for me!
art in banner © Harper Collins