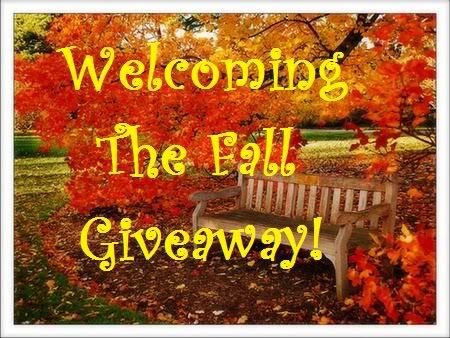 (Grr blogger just lost my whole ready-to-be-posted post, without saving it! grr!, so here it is again..)
Another fantastic week long giveaway event is starting tomorrow:
Welcoming the Fall Giveaway
Fall is my favourite season, I just love all the colours and that it is still sunny and nice warm to go hiking or just being outside without the scorching heat and the sweating. And the leaves! and the chestnut trees! They remind me of when I was young and couldn't wait for September so school would start again and I could meet my friends, go to classes and shop for new school pens and stuff! :-D Loved the excitement fall always brought. :-)
But back to our fall celebrating giveaway.
Welcoming the Fall Giveaway
is organized by the wonderful ladies of
Good Choice Reading
, and here is the description of the event in their own words:
Join us September 22nd - 29th for our Welcoming the Fall Giveaway! Over 50 blogs participating giving away some GREAT BOOKS and anything that has to do with books.
Here at Ex Libris I will be doing things a bit differently: I will feature one author/novel for a day, so come back often, because each day a new giveaway will be posted!
September 23:
Win a 10 USD gift card to Total-e-bound to buy some great ebooks!
- International
September 24:
Win a Desiree Holt or Cerise Deland novel
- International
And here is the list of all participating blogs: