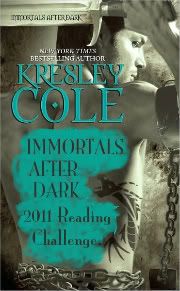 Kresley Cole's A Hunger Like No Other was one of the very first PNR novels I have read and I instantly fell for the Immortals After Dark series. After the initial liking phase and gobbling each book up, I started collecting them, because I decided these books will be re-read someday. And
Jen from That's What I'm Talking About
just gave me another reason to do just that: she is hosting an IAD Reading Challenge! Sign me up, I'm in for the fun :-D

The rules according to Jen:
THE PLAN. I plan to read one book/story per month starting January 2011. I will post my review and lead an online discussion of the book on the THIRD FRIDAY of each month (schedule posted below).




HOW TO JOIN IN THE FUN. I ask that if you participate that you 1) read the stories according to the schedule, 2) on the day listed below, post a review or commentary about the book at your blog or "linky site," 3) HAVE FUN!
READING CHALLENGE SCHEDULE:
January 21:
"The Warlord Wants Forever" in PLAYING EASY TO GET
February 18:
A HUNGER LIKE NO OTHER
March 18:
NO REST FOR THE WICKED
April 15:
WICKED DEEDS ON A WINTER'S NIGHT
May 20:
DARK NEEDS AT NIGHT'S EDGE
June 17:
DARK DESIRES AFTER DUSK
July 15:
KISS OF A DEMON KING
August 19:
"Untouchable" in DEEP KISS OF WINTER
September 16:
PLEASURE OF A DARK PRINCE
October 21:
DEMON FROM THE DARK
November 18:
DREAMS OF A DARK WARRIOR