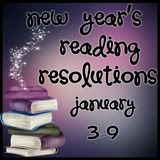 What better way to start 2011 than with a few reading resolutions (and a giveaway)?
So here are mine:
In 2011
- I will try to be more organized with my review list.
- I will try to write more reviews and slow down with reading in order to jot down a few notes.
- and as always: I will try to read even more than in 2010! ;-D
And now for the giveaway:
To keep in line with Ex Libris'
Spotlight on Romance
events, I would like to give away the winner's choice of the following romance novels:

GIVEAWAY RULES:

Giveaway is open worldwide!
Ends on 9 January 2011
You don't have to be a follower of Ex Libris, all you have to do is fill out the form below to be entered.
Extra entries:
Following is not required, but if you are a loyal reader of Ex Libris you'll get some extra entries. :-)
Also for every meaningful comment you left on
any of the "Spotlight on Romance" posts
you'll get +1 entry.
(After you have entered my giveaway don't forget to scroll down and enter the giveaways at the other participating blogs, you'll find their links in the list below.)