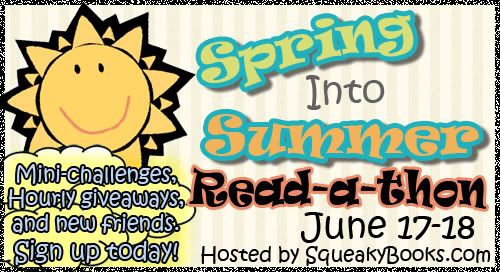 Total Books Read:
3
The Sevenfold Spell by Tia Nevitt
Secrets, Monsters, and Magic Mirrors
The Pet Shop by K.D. Grace
How I'm currently feeling:
Starving! Haven't had breakfast so I can't wait to finally have lunch!
Books read:
see above
What is your favorite book you read during the read-a-thon?
Loved them all for very different reasons :-p
Did you participate in any mini-challenges?
No, I joined late and I also live outside the US, so I rather focussed on reading.
What has been your favorite thing about the read-a-thon?
The mini challenges were fun, it was a real pity it was only open to US/Can residents :-(
Are you satisfied with how much reading you got done? Did you do more than you expected? Less?
Since I only joined yesterday afternoon I am. Would have liked the Read-a-Thon to go on for the whole weekend though.. :-/
What did you think of the updates? Too close together? Didn't like the time limit?
Yes, I think only daily updates would have been enough. With these too frequent updates people couldn't really concentrate on reading, which was the main goal.
If you could change one thing about the read-a-thon, what would it be?
Less rules. They were a bit complicated to follow. Less frequent updates and challenges open to everyone, or at least have some of them open to international readers too. Oh and also make it a 3 day event from Friday until Sunday, since most people worked on Friday :-(
Would you participate in another read-a-thon hosted by Squeaky Books?
Why or why not? Yes, sure, but please make it more casual and longer!
Any last comments on the read-a-thon?
Thanks for putting it together, it was fun and can't wait for the next one! :-D