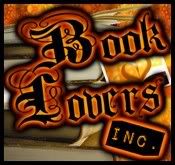 As you know I am part of the wonderfully fun and international team of book bloggers of
Book Lovers Inc.
and let me tell you, the time and work it requires doesn't even register because my fellow book lovers make it all worthwhile! I love working (= chatting about books and other fun book related topics, yep the life of the book blogger is hard lol ;-) with them it puts all the fun in blogging!
So I just wanted to let you all know that if you'd like to join a fun and friendly bunch of book bloggers (=us Book Lovers), if you love books and discussing what you read, if you just can't have enough books, your place is among us, so
now's your chance to join Book Lovers Inc!