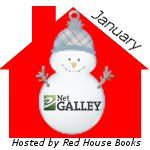 It's that time again! What time? Well when
Emily from Red House Books
is once again organizing a NetGalley Month! Those who participated in the previous NetGalley month challenges know all about it, but those of you who haven't heard about it let me tell you what this mean.
It is a wonderful initiative of Emily to make a dent in our huge TBR (to-be-reviewed) pile of NetGalley ARCs. So she created a challenge, declaring
January NetGalley month
, the objective is to read (and possibly review) as many NetGalley books as you can between January 1st and January 31st. If you want to motivate yourself in making a dent in your huge virtual NetGalley book pile then
sign up
and let us cheer you on! :-)
Thank you Emily for organizing it once again! :-)
I loved participating in the previous challenges and even broke my personal record in October when I read 13 NetGalley novels, woohoo! This time I don't have any illusions to achieve that as I'll have my second bar exam at the end of January, so I'll have to study full steam :-( So I'm not fixing big goals this time: just read as much as I get to.
So come and join the fun! :-)

And of course: