Button made by the very talented Susi! Thank you!!
And now let's the festivities begin with one of my favourite authors whose novels I discovered last year, I cede the blog to the wonderful
Nadia Lee
, whose writing be it contemporary steamy (
Carnal Secrets
), contemporary sweet (
A Happily Ever After of Her Own
) or fantasy (
The Last Slayer
) is equally fantastic and enchanting! Read on to get a behind the scenes glimpse to discover how real life inspires authors in creating their characters. Please give a warm welcome to Nadia!
Spinning Fantasy from the Quotidian
by Nadia Lee

A lot of people who read
The Last Slayer
have told me they really like Toshi, the Castellan of Besade, who serves the heroine's romantic interest. He's a teeeeny little dragon (think mini T-Rex lookalike) with butterfly wings. Personality-wise, Toshi is 10% the stereotypical snooty British butler you might encounter in a deliciously bad, duke-centric historical romance and 90%... Japanese Pizza Hut delivery boy.
Let me explain.
When I first moved to Japan, the only place Hero Material (my own romantic interest) and I could get a decent pizza was Pizza Hut Japan (PHJ). Back then, PHJ offered interesting crust options, like cheese-stuffed crust, sausage crust, maple syrup crust, and so on, for free. We loved their cheese-stuffed crust, so we ordered it all the time.
But one day, instead of the cheese-stuffed crust we ordered, PHJ sent us a pizza with sausage crust! Imagine my confusion when I bit into it and tasted something...not gooey and hot and cheesy.
The sausage crust wasn't bad, but I really didn't care for it. So Hero Material manfully called PHJ and asked them to correct the mistake.
Within ten minutes or so, a pizza delivery boy came. He proffered the new pizza with both hands, his arms straight-out and rigid, head bowed and waist bent almost ninety degrees in abject apology. He even said, "We have no excuse to offer" in exceptionally formal and polite Japanese.
I almost giggled because it was waaaay too much melodrama over a $15 pizza. It wasn't even his fault that there had been an error; somebody on the phone or in the kitchen had probably made the mistake. All Hero Material and I wanted was the pizza we'd ordered. (BTW -- there is no tipping in Japan, so it's not like he was worried about getting tipped or anything like that!)
The incident was just surreal enough to stay with me. A few years later, when I was working on
The Last Slayer
, I thought...why not make Toshi more interesting by giving him an unexpected dose of humility and puppy-esque, eager-to-please enthusiasm? In addition, he's obsessed with pre-emptive requests for punishment as a way of atoning for every possible mistake he might have made, even though he's deathly afraid of pain and failure.
So that's how one of my favorite secondary characters was born.
Got any favorites among the supporting cast (TV shows, movies, books, etc.)? What trait makes them interesting?



Ashera del Cid is a talented demon hunter, but when she kills a demigod's pet dragon, the hunter becomes the hunted. Her only potential ally is Ramiel, a sexy-as-hell demon. Now the two must work together to battle dragons and demigods...and the chemistry crackling between them.

Ramiel has his own reasons for offering Ashera his protection. He knows her true identity and the real reason the demigods want her dead. What he can't predict is how she'll react when she discovers he knew who she was all along...

Ashera is shocked to discover that she is the only daughter of the last slayer. To claim her destiny, she and Ramiel must join forces to face down danger and outwit their enemies. Only then will she be able to truly accept her legacy...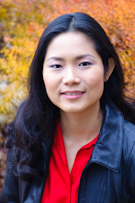 Bilingual former management consultant Nadia Lee has lived in four different countries and enjoyed many adventures and excellent food around the globe. In the last eight years, she has kissed stingrays, been bitten by a shark, ridden an elephant and petted tigers.
She shares an apartment overlooking a river and palm trees in Japan with her husband, baby boy, winter white hamsters and an ever-widening pile of books. When she's not writing, she can be found digging through old Asian historical texts or planning another trip.
Where you can find Nadia:
Website
-
Facebook
-
Twitter
-
Goodreads
-
Tumblr
GIVEAWAY RULES:
To be entered all you have to do is:

2. Answer Nadia's question: Got any favorites among the supporting cast (TV shows, movies, books, etc.)? What trait makes them interesting?
Giveaway is open worldwide and ends on 15 March 2012.