Let's Hear From the Aliens
by Lilly Cain
Thanks for having me here today, Stella! I've been on a wonderful tour talking about my sci-fi erotic romance series,
The Confederation Treaty
from
Carina Press
. Today I'd like to tell you about my second book in the series,
The Naked Truth
. And for those who comment on the post I'll be giving away a copy of the story!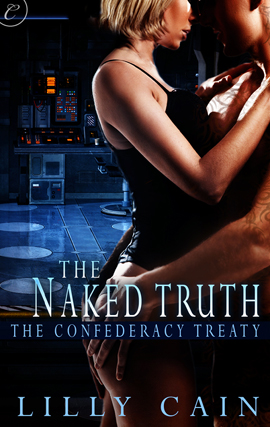 In
The Naked Truth
, we get a bigger glimpse into the world of the Inarrii – the first race humans encounter from the Confederation, an amalgamated group of sentient species from across the galaxy who band together for mutual protection. We get a sense of their community. Check out this scene snippet – the introduction to the hero of the story and his position within the Inarrii people:

Confederacy Examiner Asler Kiis sat at the large oval conference table and listened with waning patience to the chaos around him. His long robes, although of the softest chammiss available, were heavy and irritating. The drone of constant chatter from the ongoing conference was also annoying, and the reason for calling the conference even more so. He tapped his fingers against the polished walnut surface of the table, admiring its quality and the striking pattern of the unique Earth product even as he planned his next move.

As Lead Examiner during the mission to contact the human race, he was also Examiner Advocate for the Earth people until such a time as the first Treaty between the Confederacy and the humans was complete. Whether the humans knew it or not, he was there to protect and defend them.

Of course, should the need arise he was also there to judge and punish as necessary. It was the highest position he'd achieved to date, and the most honor his clan had garnered in three generations. He was the youngest Examiner to achieve Advocate position in a hundred years, and he wasn't about to lose the chance to make history.

His entourage of fellow officers and Co-Examiner, Salis Fiiten, sat with him on one side of the table. All waited silently as the members of Earth's Starforce Marines argued among themselves on the other side. Or, at least some of them argued. Top Admiral Jeffers and Base Commander Davies sat as silently as the Confederacy team. These were the men to watch.

In many ways, Earth people were not dissimilar to his own, Asler thought, but most humans lacked the ability to touch each other as his people did, mind to mind. Perhaps this was why they were so loud and argued so much. Maybe if he had been older than his thirty years—maybe if he had been as aged as his predecessor—he could have continued to wait while the humans fought it out. But he wasn't.
Their system of justice is very different from ours. As is their world – here Asler takes his charge, Captain Susan Branscombe, to a memory of his home:

She was biting her lower lip. If she'd been Inarrii he would have comforted her by drawing her into a kiss, a taste of her silken lips. He would stroke her mind and body until she could relax enough to be calm. But she was human, and he could feel her confusion and fear in a complex tangle of emotions. That she seemed to have a hint of interest in him must be ignored in the face of what they would have to go through together to attain the truth. So instead he opened his mind to hers, took her to a place he knew and loved.

Red haze drifted around their bodies as they stood entwined on the black sands of his home. Clear water lapped at their feet, but it was mostly obscured by the red morning fog.

She pulled away from him with a gasp, her eyes no longer angry, but open wide with shock. He held tightly to her arm to keep the contact open, smiling when delight filtered out the surprise. "Where are we?" Her mental contact seemed as soft as a whisper to his senses.

"My home, or part of it."

Her eyebrows rose to meet the short bangs of her hair. "An alien world. I've wanted to see one all my life." Her eyes scanned the waters, the red fog and the black sand. "Is it always like this? What is this red stuff? And you have two moons…" Her voice trailed off, then her shoulders drooped. "I'll never really see this. They'll take away my space privileges, tie me to some land desk, even if I am found innocent."
This fear he could not dismiss. He knew she believed it was true, and that perhaps her culture would require it. Unlike his people, they could never know what she truly believed had happened, only what they were told.

"That may be. But we have to reveal the truth, Susan, all of it." He slipped into the use of her primary name; titles were meaningless mind to mind.
Their language is different, and is often spoken mind to mind rather than out loud. And they way they deal with personal relationships, clan ties and mating, whether permanent or not, is very different from how we handle things.
My heroine, Susan, is human and loving Asler means accepting a lot of change and working through some major culture shock. Having married a person from another country, and moving there right out of university, I can relate, but the differences were nothing like the ones on this scale! I believe Susan can accept these things because her love for Asler is grown out of trust. Since he heals her after a terribly traumatic event, she can put her fear aside and trust. I wonder if I could do that?
Have you experienced a different culture? Was it as hard to accept the differences as you imagined?
The Naked Truth by Lilly Cain



Book #2 in The Confederacy Treaty series


Captain Susan Branscombe was the victim of brutal torture at the hands of terrorists. Though rescued, she's now facing an equally brutal accusation: treason.

The only way she can prove her innocence is to allow Asler Kiis, a Confederacy Examiner, to delve into the depths of her mind. Asler is Inarri, the alien race that made contact with Earth just months before. His duty is to find the truth, but when he explores Susan's mind he can't resist drawing her into a more intimate experience.

Susan takes comfort in Asler's heated sensuality. Their erotic sensory exploration chases away the darkness and her body aches for more. But as their desire reaches new limits Susan finds it difficult to suppress the memories she is desperate to forget.

Is the passion they share enough to let Susan push aside her fear and trust Asler, not only with her mind and body but with her ever-opening heart?



The Confederacy Treaty Series:




Lilly Cain is a wild woman with a deep throaty laugh, plunging necklines and a great lover of all things sensual - perfume, chocolate, silk! She never has to worry about finding a date or keeping a man in line. She keeps her blond hair long and curly, wears beautiful clothes and loves loud music. Lilly lives her private life in the pages of her books.
Lilly lives in Atlantic Canada, although she spent eight years in Bermuda, enjoying the heat and the pink sands. She returned to her homeland so she could see the changing of the seasons once again. When not writing she paints, swills coffee and vodka (but not together), and fights her writing pals for chocolate.
When not living up to her pen name, Lilly is a single mom who loves reading and writing, dabbling in art and loving and caring for her two daughters. She loves romance and the freedom erotic fantasy provides her imagination. She loves the chilling moments in her novels as much as the steaming hot interludes. Her stories are an escape and a release, and she hopes that they can give you that power, too.
You can reach her at
her website
/
Blog
/
Facebook
/
Twitter
GIVEAWAY RULES:
Lilly has generously offered an ebook copy of
The Naked Truth
to a lucky commenter!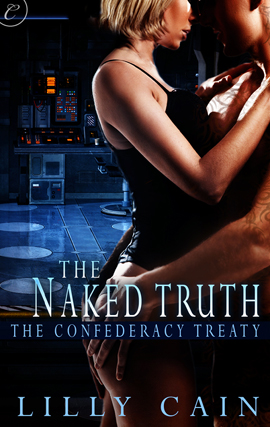 All you have to do is leave a comment answering Lilly's question:
Have you experienced a different culture? Was it as hard to accept the differences as you imagined?
Giveaway is open worldwide and ends on 22 June 2012!