Today I welcome back to the blog Entangled Publishing's very own best-selling author Diane Alberts, whose latest novella
Try Me
since its release took the virtual shelves in a whirl: from its drop-dead sexy cover to the story it has everyone abuzz. So I was very glad to be able to grill Diane on some of the behind the scenes secrets of
Try Me
, so take a seat, please give Diane a warm welcome and read on, you could even win a copy of
Try Me
!
Stella: Hi Diane, welcome back to Ex Libris! Since you were last here in March, when you were promoting and celebrating the release of On One Condition your very first novel released by Entangled Publishing a lot has happened! Can you share with us the whirlwind that your life has become ever since (or at least that's how it appears to me based on all the new novels you have released since :-)?
Diane:
Oh my God, it's been SO much fun.
On One Condition
is still burning up the charts, and now
Try Me
is joining in the ranks. It's so exciting to be actually living my dream—writing for a living. It's blissful, and I'm so grateful that I've been so blessed with great fans, readers, and wonderful partners—including editors, publishers, and more!
Stella: Your latest novella Try Me was released by Entangled Publishing and since then it has reached amazing rankings at Amazon, congratulations! Can you tell readers what they can expect of it?
Diane:
It's an emotional tale of two people who always loved each other, but never got their chance to make it work. I love writing stories with the brother's best friend who loves the little sister—but tries to stay away out of loyalty. So much fun to write—and read.
Stella:
Try Me
is a very short novella, yet you managed to pack a wholesome well-developed story in that 60 pages, how did you do that? Does writing shorter stories come naturally to you or to the contrary you prefer to spend more time (and pages) on elaborating the story and so it was a challenge to make it this compact? Why did you decide to make
Try Me
such a short novella?
Diane:
I find that writing a story about 35,000 words is my happy point. Just enough length to make you fall for the characters—but not so much that I run out of ideas. I've been writing some longer ones recently, and I also like the 65,000 word mark (That would be
Indulgence
length)
And the line I was writing it for determined the length—
Ever After
. Ironically enough, it started out as a
Flirt
(even shorter) but after edits, it crossed up into the
Ever After
word count.
Stella: In my opinion one of the highlights of
Try Me
was the great characterization. Would you like to introduce the hero and heroine of
Try Me
to the readers?
Diane:
Jeremy—A Marine filled with desire for the one girl he never could have, he is a man who comes from the wrong side of the tracks, grew up without parents, and shows his pain through his tattoos and his lifestyle.
Erica—A successful, rich lawyer who always had a thing for the tall, handsome best friend of her brother, but was too scared to tell him. Hiding a big secret that affects her choices as an adult.
Stella: In
Try Me
you tell the story through both the hero and the heroine's POV. I particularly enjoyed reading Jeremy's narrative as it was so wonderfully dry and sarcastically self-deprecating. Was it difficult channeling a guy, and such a virile manly man as Jeremy and make his part of the story sound authentic and real? How did you get in the masculine state of mind? Any special ritual or trick that helped you?
Diane:
Hmm, Jeremy came pretty naturally to me, but my editor is always there to help me. He pointed out that Jeremy should be more self-deprecating…and he was spot on. Jeremy has a lot of issues with self-esteem and self-worth, so there's a lot to fit into his character.
And I just kind of…slip into the character's mind—if that makes sense? When I'm in their POV, I just hear their thoughts, and feelings, and try my best to do them justice by putting it into words for the readers.
Stella: Do you have a favourite scene/line in
Try Me
? (Or which one was the hardest to write?)
Diane:
Like most other people—the epilogue! I just love that scene. It holds a close spot to my heart, since my husband used to be a Marine. I saw so many homecomings. So many homemade signs. Being a military wife is one of the hardest things in the world to be. I have so much respect for all the military—and their families.
Stella:
Try Me
features one of my favourite romance tropes: that of the brother's best friend falling for the little sister one. What are your favourite romantic tropes? And any which you prefer to avoid?
Diane:
That one! I love the best friend's little sister. I also love marriage of convenience. Sensing a theme here? ~laughs~
I don't like the Secret Baby trope, for the most part. Unless she tried to tell him—but couldn't find him. Then, I'm all game.
Stella: If you had to make a Twitter-style elevator pitch of
Try Me
, how would you describe it? (in 140 characters or less)
Diane:
He told his best friend he loved her seven years ago. She ran away from him. Can they take a chance on love?
Stella: Can you share with us any behind the scenes secrets related to
Try Me
? (either to the inspiration behind the story, the moment/event that sparked it, the writing process or any scenes or characters that got deleted/changed in the final version?)
Diane:
Hmm. The last chapter before the epilogue was added in edits—and I love that scene. Where they can talk and figure things out, placing the epilogue perfectly.
Stella: You had a man editor working on
Try Me
, was that in any way different from your previous experience? Did his voice, tips help in having this spot on characterization of Jeremy?
Diane:
Oh, yeah. He's seriously the best editor ever. He's SO great at helping me find the character's weaknesses and strengths. I don't know how he does it—but the man is a genius with my stories. He's so in tune with my voice, and he finds those weak spots and attacks them with a red pen. And his experience with the male gender is definitely handy to have. I think he definitely brings more depth to the males in my books.
Stella: What shall we expect from you, what is next on your schedule?
Diane:
Next up, I think, is
Love Me
later this summer/early fall. It's the second in the
Take a Chance series
, and it centers around Tommy—Erica's brother.
What happens in Vegas...can lead to romance.

It took one wild night for Sergeant Jeremy Addison to realize that Vegas? Was a bad idea.

Bloody. Bruised. Dehydrated. Abandoned in the desert, and left to stagger down the road. The only way this leave could get worse was if his savior was his ex-best friend's sister...and the girl he'd loved since childhood.

The last person Erica expected to find on the roadside was her high school crush. She hadn't seen Jeremy in seven years--ever since the night he said he loved her, and she ran away. Losing him then had been a mistake, but wanting him now could be catastrophic if he discovered the secret that chased every other man from her life. But with a tall, tattooed Marine determined to prove he's always been faithful, can Erica resist his advances...or will she surrender ground and give love a try?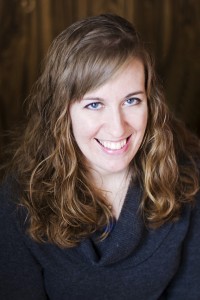 Diane Alberts has always been a dreamer with a vivid imagination, but it wasn't until 2011 that she put her pen where her brain was, and became a published author. Since receiving her first contract offer, she has yet to stop writing. Though she lives in the mountains, she really wishes she was surrounded by a hot, sunny beach with crystal clear water. She lives in Northeast Pennsylvania with her four kids, a husband, and a Senegal parrot. In the rare moments when she's not writing, she can usually be found hunched over one knitting project or another.

She is a multi-published, bestselling author with Entangled Publishing and Decadent Publishing. She is repped by her fabulous agent, Lauren Hammond of ADA Management. She has, as of this date, two books with Entangled Publishing, and five books with Decadent Publishing. Her February release with Entangled Publishing,
ON ONE CONDITION, hit #18 on the Barnes and Noble Bestseller List. She has a lot of projects currently being shopped around by her fabulous agent, and her goal is to write so many fantastic books that even a non-romance book fan will know her name.

Diane Alberts current contracted works with Entangled Publishing are: ON ONE CONDITION (February 2012, Ever After line), DIVINELY RUINED (Divine Temptations Trilogy #1, April 2012, Ever After line), and TRY ME (Take a Chance #1, May 2012, Ever After line). Her current works with Decadent Publishing are: KILL ME TOMORROW (October 2011, 1NightStand series), RECLAIMED (December 2011), ABSOLUTION (March 2012, Honor Guard series), BROKEN (March 2012, 1NightStand series), and ESCAPE TO ME (TBA, 1NightStand series).


You can also find Diane on her website, Twitter, Goodreads and on Facebook.
Entangled Publishinhg has generously offered an ebook copy of
Try Me
to a lucky commenter!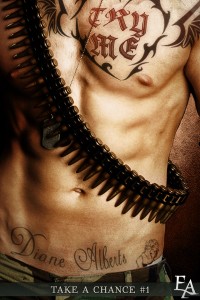 All you have to do is leave a comment answering Diane's question:
What is your favourite kind of hero?
Is he a military man? An alpha hero or a shy one? A vamp, a werewolf or an angel? Tell us.
Giveaway
is open worldwide and
ends on 24 July 2012!
Good luck!