Stella: Hi Kristin, welcome to Ex Libris! Can you tell us a bit about yourself?
Kristin:
Hi Thanks for having me! I write the dark and sexy
Vampires of Crimson Bay series
for HarperCollins/Avon (
INTERVAMPTION
,
VAMPED UP
and
LAST VAMP STANDING
-Aug 2012) and fantasy/paranormal romances on the Isle of Feralon for Harlequin (
CLAIMED BY DESIRE
and
FORBIDDEN BY FATE
). When I'm not plotting a way to kill my fictional darlings, I'm busy raising two children in Northern California with my devilishly sexy Alpha-male husband. :-)
Stella: Forbidden by Fate, the second novella in your Isle of Feralon series was released recently, congratulations! Could you give a short introduction to the Isle of Feralon series for those readers who aren't familiar with it yet?

Kristin: Thanks so much ! Here's the official book blurb:
Dragon shifter Damon Frost has been banned from stepping foot onto Were land after sharing a night of pleasure with Sasha Moore, heir to the Were throne. Since then, he's been waiting for the opportunity to return and claim her once again—until a territory dispute finally reunites him with his werewolf princess. Damon plans to use every minute with Sasha to remind her of the passion they shared—a fire he's determined to reignite.


With their desire impossible to resist, Damon and Sasha indulge in a night of illicit ecstasy. But will it be enough to satisfy their lust? Or will their forbidden love start a war between their clans?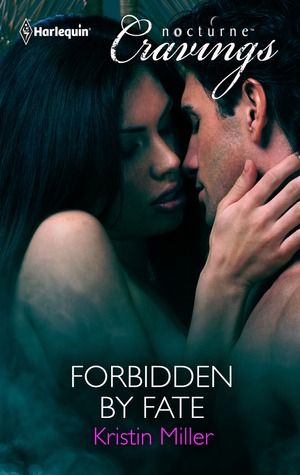 Stella: And now for the seasoned fans can you tell us what Forbidden by Fate is about? Any good, titillating scene or excerpt you'd like to share? Or just some teaser lines? ;-)

Kristin: How about the first page?
He was coming for her.


No matter the years spent apart or the order from the Alpha of her werewolf pack forbidding them to be together, Damon Frost—the Draco who had Sasha's heart clutched in his grasp—was finally coming for her.


Seven agonizing years later.


The dark outline of Damon's wings could barely be seen beating over the tree line to the west, but she could feel him closing in. Electricity sparked in the air like a Feralon lightning storm, starting a fire in her heart. As Sasha Moore leaned over the balcony of stone-faced Were Mountain, peering through black-and-blue cloud cover, anxiety peaked in her core, freezing the blood in her veins.


How much had Damon changed? Sasha wondered. Would she still know how to make him smile? How to rile him up and turn him on?


Hell, how much had she changed?


Her hair was darker, almost midnight-black, and had grown down to her waist since she'd seen him. She'd gotten curvier, too. Would he like the memory of her more than the woman she'd matured into? Maybe he wouldn't want her with the same intensity…


She didn't have much time to think things through. Damon closed in on the balcony, the strong beat of his wings pounding the cool night air. Sasha jumped back with a gasp as the massive length of his wings flapped quickly before he settled with a thud, a few steps in front of her.


Good Lord, Damon was gigantic! The breadth of his chest formed an impenetrable gray wall of sculpted muscle covered by silky soft scales. He was easily the largest dragon to grace Feralon's skies. Strong, yet lean. Majestic. Silver scales rippled down his twitching flanks. Steel-gray eyes measured her, boring right through her skin, as if he could see the wolf lurking within her.

Kristin: I think that passage above just summed my characters up better than I can here. :-)
Stella: Sasha the heroine of Forbidden by Fate is a werewolf, why do you think werewolves are the second most popular supernatural species (just behind vampires), what makes them so exciting that we can't get enough of them? Do you have a favorite werewolf character or movie/novel?

Kristin: Ohh, great question. I think werewolves exude raw power and strength, possessiveness and sexuality, and all of those things are very sexy in a hero or heroine. I think my favorite werewolf character is Michael Corvin in Underworld, though he was a vampire-werewolf cross, wasn't he? Can't beat Scott Speedman in that role.

Stella: The hero, Damon is a dragon shifter, yay! I simply LOVE dragon shifters and it always saddens me how rare dragon shifter stories are, so please tell us about the dragons and dragon shifters in your universe, anything we should know about them, their hierarchy, powers, look, and of course one of the most important questions: can they fly?

Kristin: You better believe they can fly! I couldn't rob the dragons of their greatest (and coolest!) skill. When in Draco form (their human form), the shifters have colored specks arching across their cheekbones that reflect the color of their scales when they shift into dragons. The dragons answer to Queen Elixa and live in a castle on the western shore of the isle. Most importantly, if the dragons don't mate and claim a rider by a certain age, they die.

Stella: The Isle of Feralon is a novella series, since you have written full length novels as well you have the experience of writing stories of different length. Do you find it more challenging to tell a well-rounded story with well-developed characters in such length limitations, or to the contrary writing shorter stories comes naturally to you?

Kristin: I think writing any book, long or short, simple or complex plot, is challenging. With my Vampires of Crimson Bay series, I tended to focus more on the story, the over-arching conflict, and the world-building. However, in the Isle of Feralon series, there simply wasn't time to focus on anything but the relationship between the hero and heroine. I felt like the world came naturally and the conflict was self-evident, which left a ton of room for the hero and heroine's chemistry to sizzle!

Stella: If you could meet/be a supernatural being for a limited time, what would you like to be and why?

Kristin: I'd totally be a dragon. I'd be black and violet, sleek and powerful. I'd live somewhere in the mountains with a lake view and soar the night sky. Yeah, that kind of life wouldn't be too bad.

Stella: If you could have a literary crossover, which fictional character would you like to welcome to your stories? And what role would you have for them (lover, best friend, villain, etc.)?
Kristin:
Wow, you've got some great questions. One of my favorite heroines is Chess Putnam from
Stacia Kane's Downside series
. I'd welcome Chess into Feralon as a lover or ex-lover any day…though I'm pretty sure she'd kick witch ass, take dragon names, and bolt. (Did I mention I'd love her for it?)

Stella: Can you tell us what we should expect from you, or would you like to share with us any of your future plans?
Kristin:
Sure!
Last Vamp Standing
, book #3 in the
Vampires of Crimson Bay series
, releases August 28th. I'm also working on another proposal for Book #3 in the
Isle of Feralon series
, though I'm not certain which races that will entail yet. :-)
Forbidden by Fate by Kristin Miller


A forbidden love... A second chance... A night of passion neither will forget.

Sasha, a love-thirsty werewolf and rightful heir to the Were throne, is ready to take control over her pack. But when her first love, dragon shifter Damon Frost, lands on her doorstep, demanding their races negotiate ownership over Feralon''s hot springs, he makes her question more than the fight for the enchanted neutral ground. No matter the emotions bubbling inside her, Sasha can''t become involved with Damon. Not now. Not ever again.

Forbidden to step foot onto Were land after a romp with the Alpha''s daughter as a teenager, Damon has bided his time, waiting for the day when he''d be accepted back onto Were land. Using the hot spring negotiation as a way to get closer to Sasha, Damon plans to use every minute alone to remind her of the passion they shared–—a passion they could ignite again.

One night of ecstasy stands between them and the fight for the springs. One night of revealing glances, skin searing chemistry, and erotic desires they''d long buried.

Will one taste of forbidden love be enough to satiate their desires? Or will the need to explore the depths of their love unleash a Were-Draco war?



Kristin Miller has had a passion for language and literature her whole life. Born and raised in Small Town USA, she often made up stories about faraway places and edge-of-your-seat adventures.

After graduating from Humboldt State University with a degree in psychology, Kristin realized there is no scarier place than the warped human psyche. Wanting to combine her love of writing with her desire to paint twisted villains, Kristin wound up in the unlikeliest of places—the classroom. She taught high school and middle school English before giving in to the desire to create her own world, where villains can be sympathetic and heroes can be devilishly good.

You can find Kristin on her website, Twitter, Goodreads and on Facebook.
• Two random commenters from the tour will win their choice of either a Kindle or Nook format eBook of
Forbidden by Fate
OR a Kindle or Nook format eBook of
Claimed by Desire
, the first novella in the Isle of Feralon series.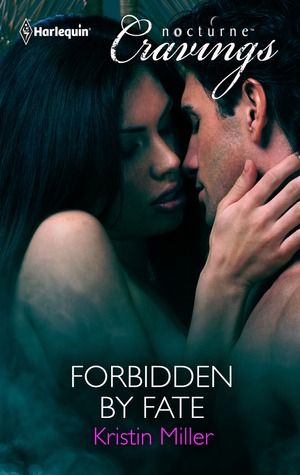 • Please
leave a comment along with your broken up email addy.
• Winner will be randomly selected and notified via email.
Giveaway is open worldwide and ends on 20 July 2012!
Good luck!