It's my pleasure to welcome to Ex Libris

Sara Daniel

, who as celebration of the release of her cute contemporary romance has decided to interview Veronica and Matt, the heroine and hero of Construction Beauty Queen for you! Please give them a warm welcome and don't forget to enter the giveaway at the end! :-)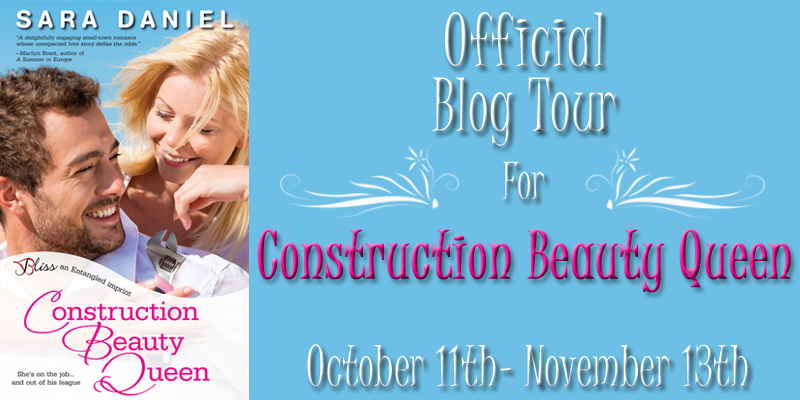 Veronica: I'm Movin' On by Rascal Flatts. I have to walk away from the only life I've ever known to make a new life for myself. Leaving home was a heart-wrenching choice, but I had to do it to follow my dreams.
Matt: Guys Like Me by Eric Church. This country song talks about a rough-around-the-edges small-town man who falls for a high-class woman who "has her pick of all the trust-fund types." Yeah, well…I certainly didn't plan to fall for her.
Veronica: Definitely something in my signature pink color. I wouldn't leave home without putting on lipstick either.
Matt: My truck. I've got all my tools inside that I need for the day's job. It wouldn't make sense to go anywhere without it.
What would I never find in your bedroom?
Veronica: *shivers* I hope never to find a mouse! I cleaned more than I ever had in my life to make that trailer inhabitable, but it's still a bit sketchy.
Matt: Makeup, glitter and high heels. If it's "girlie," I don't want anything to do with it!
Veronica: Hottie in a tool belt. Boy, was I right!
Matt: High class and high maintenance. I was right…and I was wrong.
Thanks Veronica and Matt. You were a blast to write, especially when you were on the page together! Here's the blurb for
Construction Beauty Queen
:



She's on the job…and out of his league.




Chicago socialite Veronica Jamison is determined to shake off her sheltered lifestyle and overbearing parents. She heads to her grandfather's small town of Kortville, ready to roll up her sleeves and work for the family construction business. She'll prove her worth, even if it means answering to the company's ruggedly handsome co-owner, Matt.




Matt Shaw just wants to run his business, spend time with the niece he's raising on his own, and give back to the townspeople who have stood by him. Managing a spoiled-rotten princess he knows he'll never be good enough for? Not part of his plan. But as he gets to know Veronica, he learns there's more to her than her beautiful looks and designer clothes. She's got a heart as rich as her background.




With the quirky townspeople rallying against Veronica inheriting her grandfather's business, it's up to Matt to try to drive her out of town. But how can he, when instead she's driving her way into his heart?







I write what I love. That means irresistible romance, captivating small-town drama, and quirky characters in romance fiction as Sara Daniel. In children's chapter books as Sara Shafer, that means fun, family and adventure. Whatever I write, you're guaranteed a happy ending. I write fiction to entertain but also to give people hope and a belief that everything can and will turn out happily ever after.
On the personal side, I'm a frazzled maid, chauffeur, and personal assistant (aka mom). I tried a stint as a landlord of two uninvited squirrels. (The Bravest Squirrel Ever is the fictionalized version of that experience from the squirrel's point-of-view!) I'm crazy about country music and the drama of NASCAR. And I have my very own happily-ever-after romance with my hero husband.
There are TWO giveaways:
Entangled Publishing has generously offered an ebook copy of
Construction Beauty Queen by Sara Daniel
to a lucky commenter!
To be entered just
leave a comment/question to Veronica, Matt or Sara
OR tell us
if you could pick a song that sums up your life, what would it be?
Giveaway is open worldwide and ends on 23 November 2012!
Good luck!
Sara is also giving away a custom manicure set and a $20 Ulta Gift card!
To be entered just fill out the Rafflecopter form below:
a Rafflecopter giveaway