You all know what a big fan I am of fairy tale retellings, so I couldn't have been happier that one of my favourite authors
Nadia Lee
is on a fairy tale retelling mission! :-D Join us as I grilled Nadia regarding her future plans and her favourite fairy tales! ;-)
Stella: Hi Nadia, welcome back to Ex Libris, so glad to have you join my blogoversary celebrations! :-D
Nadia:
Thank you, Stella! I'm so happy to be here.
Stella: I'm curious as to beginnings. You worked in the finance business, how did you make the transition to writer? Was it something long time coming or happened rather unexpectedly?
Nadia:
Oh it sort of happened by accident. I'd always wanted to write something -- wrote a very torrid and hackneyed novel in high school -- but I decided that finance would be more practical. I didn't really like my job. The money was great but it was really stressful, especially because we were dealing with companies that needed to be restructured. It was hard to face the people who were going to be laid off, among other things. Finally I'd had enough and quit. I sometimes miss the travel and some interesting projects that I used to work on, but I'm content working on my books. And much less stressed. :)
Stella: You are quite the globetrotter, where have you been? Or if that's too long a list what were some of the most memorable places you have seen?
Nadia:
Let's see. I'm an American expat in Japan, so you already know that the US and Japan are on the list. Other than those, Canada, Korea, Jamaica, Grand Cayman, Mexico, Belize (beautiful place!), Thailand, Hong Kong... There might be a few more as well.
Loved Stingray City, where I got to kiss a big stingray, though I read recently that the tourism in that area is affecting the stingrays too much right now. Too much tourist food, you know? The rays are probably going to get fat. Belize was fantastic -- really friendly people and great food -- and especially memorable because I got bitten by a shark there. I adored Thailand. I went there with my husband on our honeymoon. Phuket, Chiang Mai, the Andaman Sea, which in addition to being spectacularly beautiful is where they shot an old James Bond movie. I want to revisit with our son when he's older. Korea's always fun, especially since I love the food and speak the language.
My dream destination, however, is Europe right now because I've never been there. A lot of people told me it's wonderful, and I really want to visit the south of France, Spain, Italy and Rome and all the spectacular works of art, Germany to experience the autobahn, Czech Republic, and Hungary...well, the list is pretty much endless.
My husband also has a hankering to visit Africa and do one of those high-end safaris, you know, where the tent is almost like a motel and they cook for you and all that, but I'm not too sure. I'm a city girl at heart, and even though we rode an elephant in Thailand it was a TAME elephant.
Stella: Lol, I loved Thailand as well, and the elephant ride was one of its highlights (I love elephants!)! And if you come to visit Europe let me know :-) You have written stories in many different genres: contemporary romance, paranormal romance, erotic romance, urban fantasy and lately fairy tale retellings. I'm wondering is the writing process any different depending on what genre you are writing?
Nadia:
Yes, they're quite different. I have to plot more for longer books or books with a lot of paranormal elements so I can keep things straight. :) I plot for contemporary romances too, but it's different in that I don't have to come up with a bunch of rules for magic and other creatures.
Some of the shorter stuff just comes to me all at once, and then it's more like a race to get it all down before I forget something.
Stella: And is there a genre/sub-genre you are pretty certain you will never write?
Nadia:
Literary novels. I know I'm not supposed to say this, but I don't always get them. And I don't think I'm a good enough stylist to write one beautifully.
Stella: You started with A Happily Ever After which is kind of like a Shrek + contemporary romance mash up and now you have released several fairy tale retellings (Cinderella and The Frog Prince). Are you planning on writing more fairy tale retellings? And which ones do you have a plan to pen?
Nadia: A Happily Ever After
was one of those ones that came to me in a flash. I think that I wrote it in two days or something, which has to be a record for me. And yes, I'm hoping to write more fairy tale-based stories. Actually I planned to have one written featuring
Snow White
this spring, but a bunch of crazy stuff happened real life, and I haven't been able to really plot anything out for that story. As soon as things settle down, I hope to devote more time to it.
Stella: Do you have a favourite fairy tale yourself? Why do you like that one?
Nadia:
I adore
Beauty and the Beast
. I love it that the heroine in the story was a lot more active than many other heroines, such as
Sleeping Beauty
. I mean really. What did
Sleeping Beauty
do? Sleep, right? Give me a break.
Stella: Thanks to Walt Disney and co. we were lucky to have lots of classic fairy tale adaptations and lately some more unconventional ones (Shrek, Tangled, etc.). Do you have one you particularly like?
Nadia:
I love
Shrek
because it's funny, unconventional and quite smart. I love humor in my entertainment. I also like more conventional ones too, like
The Little Mermaid
, especially since I really didn't care for Andersen's ending. I was so upset that the
Mermaid Princess
ended up dead in the original. I read it when I was 9, I think, and couldn't understand why she had to suffer such a horrible fate for loving someone. It remained one of my least favorite fairy tales until I saw the Disney adaptation.
Stella: Same with me! I couldn't believe when my parents read it to me that it was a tale intended for children! O_O Then when I saw the Disney version years later I was surorised such a happy version existed as well ;-) Would you like to tell us more about what we can expect from the desk of Nadia Lee in 2013?
Nadia:
I just got done finishing the structural revision for the sequel to
Carnal Secrets
, featuring Ethan Lloyd and Kerri Wilson. Kerri's back in the States, and Ethan's not about to let her slip away again. (Yes, they have a history!). It needs line editing, among other things, but hopefully it'll come out sometime this year. While that's going on I'll probably work on another contemporary romance novel (I call it the sequel to the sequel to
Carnal Secrets
) featuring one of Ethan's siblings. Provided that things settle down in my RL I'm hoping to have another
Ever After
novella out this year as well.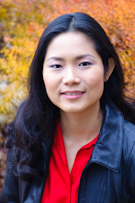 Bilingual former management consultant Nadia Lee has lived in four different countries and enjoyed many adventures and excellent food around the globe. In the last eight years, she has kissed stingrays, been bitten by a shark, ridden an elephant and petted tigers.
She shares an apartment overlooking a river and palm trees in Japan with her husband, baby boy, winter white hamsters and an ever-widening pile of books. When she's not writing, she can be found digging through old Asian historical texts or planning another trip.
Connect with Nadia at:
GIVEAWAY RULES:
To be entered just fill out the Rafflecopter form below:
a Rafflecopter giveaway
Giveaway is open worldwide and ends on 5 April 2013!

Good luck!