I have a treat for you today:
Dixie Lee Brown
brings you the hero of her new release
All or Nothing
, droolworthy
sexy hunk
Joe Reynolds *sighs* I mean, take a seat and get to know him ;-)
Maryanne secured her microphone to her lapel and slid into the chair beside the tall hunk she was interviewing on live TV today. She assessed him from beneath her lashes.
Intelligent, golden-brown eyes studied her every move. With a relaxed air, he leaned back, his forearms resting lightly on the arms of the chair, one leg crossed and propped on the knee of the other. A half smile quirked his lips. The epitome of confidence before her made her sweat just a little…and she didn't usually like people who made her sweat.
She pasted a smile on her face and stuck out her hand. "Joe Reynolds. It's so nice to have you on my show today."
"It's nice of you to invite me, Maryanne, although I'm somewhat confused about why you want to interview me about the release of Dixie Lee Brown's book,
ALL OR NOTHING
. You should be interviewing her." His hand was warm, and his soft, velvety voice nearly disarmed her.
She was disappointed when he pulled his hand back. "But the story is about you, so let's get started. You're a veteran. Right, Joe?"
"Yes, ma'am. Marines. Three tours in Afghanistan."
"How many people have you killed?"
Something dark flickered across his face before he pinned the crooked smile back in place. He leaned forward, and his breath moved the hair by her ear. "Only one other woman ever asked me that and got away with it…and that was my Cara. Course, she didn't get off without some payback either." He winked as he sat back in his chair.
An involuntary shiver stole Maryanne's breath for a moment. Her attempt to rattle him had backfired. "Tell me about your family, Joe?"
He steepled his fingers in front of him, blinking those warm, brown eyes thoughtfully. "Well, family is never easy, is it? I'm an only child. My folks retired and moved to Arizona. I don't talk to them much—see them even less. You might say they didn't agree with my career choice."
"Why did you choose the life of a mercenary?"
His eyes darkened perceptibly. "I don't consider myself a mercenary, Maryanne. I provide a needed service that my team and I are uniquely qualified for. The fact it's often governments seeking my expertise isn't really pertinent."
"Of course, but your work is highly dangerous. Isn't that right?"
Joe's smile didn't reach his eyes. "It would be…if I wasn't so good at it."
For some reason, she didn't doubt that a bit. "Where did you meet Cara and how did you feel the first time you saw her?"
A low chuckle escaped him. "I met her in an Oregon casino, and I pretty much wanted to wrap my hands around her throat and strangle her."
Maryanne raised an eyebrow.
"You see, she was knee deep in an illegal arms smuggling investigation I was leading, and when one of my team members was killed, I didn't know whether Cara could be trusted or not."
"I see." Maryanne flashed what she hoped was a sympathetic smile.
"A little later that night, there was an incident. Couple of goons tried to kill us. It could have gotten ugly real fast, but…let's just say Cara is a damn fine marksman."
"How would you describe her?"
A slow smile lit up his eyes. "She's hot! Shoulder-length blonde hair, blue eyes, five foot seven, a little thin, but I'm workin' on fattening her up some. She's got a few scars from that SOB she was married to but, to me, she's perfect."
"You look like a man in love, Joe. Do you believe in love at first sight?"
Amusement crinkled the corners of his eyes. "Absolutely. Don't you?"
She sighed. "Actually, I'm starting to. What's next for you and Cara?"
Joe looked around and leaned close again. "Cara has some baggage from that whole thing with her ex-husband and everything that happened after we met. She needs some time and I'm going to give her that. Someday, though, I hope there's a wedding in our future…and maybe even a family."
"Best of luck to you both." If his caring, can't-live-without-her expression was any indication, they were going to do just fine. Maryanne couldn't help but be a bit jealous.
"Thank you, and don't worry. You'll find your happily-ever-after too."
Maryanne smiled. Hopefully the man was psychic.
All or Nothing by Dixie Lee Brown

Somebody wants Cara Sinclair dead. Joe Reynolds is determined to keep her alive, but that's not all he wants.

Divorcing one of the west coast's most notorious crime bosses is probably not the best idea Cara ever had. If not for her half brother, Brian, convincing her abusive ex-husband to leave her alone, she'd have been dead six months ago.

Now Joe, a man she meets right before two gunmen try to kill them both, tells her it's not her ex-husband who's out to get her. Joe just saved her life and she wants to trust him, but who else could possibly want her dead? And why does she get the feeling Joe didn't appear in her life just by chance?

Joe's undercover investigation into Cara's family business reveals Sinclair Arms Distributing is selling illegal automatic weapons. The investigation goes bad and one of Joe's operatives dies, but not before telling Joe that Cara's life is in danger.

Joe promises to keep her safe, but he also intends to use her to find the evidence he needs against her brother. All he has to do is convince her to trust him.

Falling in love with her isn't part of the plan.


Excerpt:
Cara's gaze flitted around the room nervously. "Where are we?"

"My motel room."

"How did I get here? Did you drug me?" Her eyes challenged him.

"That was Murphy's idea. He's a little paranoid. The drug should be out of your system soon. You feel okay, don't you?"

"I feel like a fool for trusting you. Other than that, I'm just great."

Joe couldn't really blame her for that, but didn't she realize how close she came to dying tonight? He pursed his lips and considered telling her. "You're pretty good with a gun."

She seemed to lose some of her confidence as she looked away. Her pulse pounded at the base of her throat.

"I need to call my brother. Let him know I'm okay." She patted her pockets and then glanced at the bedside stand. "Did my cell phone make it here with me?"

"You can have it when I'm sure it's safe."

She glared at him. "This is unbelievable. I didn't ask for your help, or your attention. There was a time I could have used a knight in shining armor, but I learned the hard way there's no such thing. So I take care of myself now."

A barely imperceptible movement of her eye warned him a fraction of a second before she bolted. She whirled and ran through the outer room to the door. Forcing the chain from its slot, she threw the dead bolt and yanked the door open about four inches before Joe caught it and slammed it shut. As she swung around to face him, fear swept across her face.

Damn it. He hadn't meant to scare her, although a little healthy respect for the trouble she was in wouldn't hurt. He grabbed her elbow roughly and, after relocking the dead bolt, dragged her to a chair in the far corner of the room. When he released her, she rubbed her arm and glowered at him.

"Are you going to tell me what the hell is going on? Who are you and why were those men trying to kill you?"

He pulled another chair around, straddled it, and sat facing her. "Name's Joe Reynolds. Those men weren't trying to kill me, at least not in the beginning."

"Really?" Her voice dripped with skepticism. "What were they doing?"

He held her gaze, his expression unchanging, letting her come to her own conclusions. An instant later she gasped and looked at her hands. In that one fleeting glance before she dropped her gaze, he recognized stark terror. It was his turn to be confused. Just how much did this woman know?

A moment later, she met his eyes, her fear evidently under control again. "You think they were after me?"

He nodded.

"Why?"

"Someone wants you dead. Any ideas?" Either she already knew about her brother, or there was someone else she was scared of. Possibly the man who left his mark on her throat.

"Yes. I've got a few ideas."

"Care to share?"

"I'll tell you all my secrets when you tell me yours."

He looked down and she laughed scornfully.

"I didn't think so. I'd like to leave now."

"When it's safe…"

"Yes. I heard you the first three times." Cara smiled humorlessly. "So, you're going to keep me here against my will…for my own protection?"

Joe nodded again.

"I hope you weren't planning on sleeping."

A smile tugged as his gaze ran the length of her. "I'm perfectly capable of keeping you occupied so you aren't tempted to leave."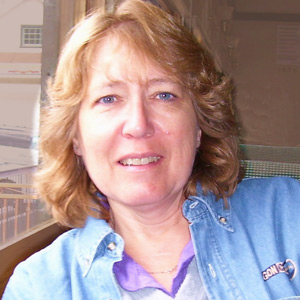 Dixie has been writing stories for years, filing away ideas and first drafts of manuscripts in every spare closet and drawer. Then she decided she wanted to write more than anything in the world, pulled out one of those story ideas and got serious!

Her romantic suspense novels are great for curling up in the evening and losing yourself in the story. Dixie's recently completed novel, All or Nothing, placed 3rd in the romantic suspense category of the 2011 TARA (Tampa Area Romance Authors) Contest. Currently, she is working on a new novel - If I Were You.

Dixie moved from Montana to a small town in Central Oregon in 1972, married and raised two daughters. Today her three small dogs spend time laying at her feet as she works on another novel.

For more information about Dixie and her upcoming releases, visit http://www.dixiebrown.com/.
Author Rescue has generously offered an ebook copy of
All or Nothing by Dixie Lee Brown
to a lucky commenter!
To be entered just fill out the Rafflecopter form below:
a Rafflecopter giveaway
Giveaway is open worldwide and ends on 18 March 2013!
Good luck!