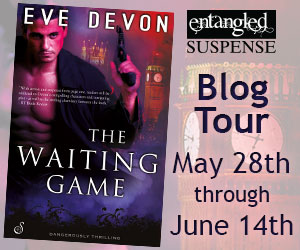 Entangled Publishing has a brand new chilling thriller coming out,
The Waiting Game by Eve Devon
, so read on to learn more about the book and get a first taste thanks to the excerpt
Eve Devon
shared with us, and don't forget to enter the giveaway before leaving!

Five years ago a madman stalked her. Kidnapped her. Tattooed her.


When security expert Cameron Dexter—the man Brooke Bennett once loved—appears unexpectedly at her door with terrifying news, the former musician discovers she can no longer hide from her past. After five years, her vicious kidnapper is out of prison and on the hunt—for Brooke.


Now he's returned to complete his art.


Cam failed to protect Brooke once before. Now he'd rather die than let her be captured. With her life at stake, Cam vows to keep her hidden and safe. Brooke, however, is done with running. Unlike Cam, she wants to stand and fight. Emotions both old and new roil between them, but addressing their heated past must wait. Together they set a trap in London to catch a killer. But they soon discover the enemy wears many faces.


And waiting is no longer an option...
Excerpt of The Waiting Game by Eve Devon

Cam had touched her last night. He'd held her, Brooke corrected.

What was so different this morning? She heard the scuttle of shame trying to escape that door she'd locked. The whole cold-light-of-day thing, she supposed. But as soon as she had the thought, it was replaced with a flood of want and need so strong she could have cried, because she'd thought the feeling lost to her forever. As she stared up at him, she knew—absolutely knew he wanted to touch her.

Suddenly, she understood if she wanted to turn that glimpse of a new life she'd had last night into a possibility, it had to all come from her. Apart from the time at the yurt, when he had been testing her and lost control with that kiss, he was far too dutiful and responsible ever to forget his self-imposed rules again.

If she wanted more from him, she had to grab hold of her courage the way she had last night, and ask for it.

Without questioning her sanity, she leaned slowly and defiantly back on the bed. Her elbows sank into the mattress,taking her weight. The muscle in his jaw ticked, secretly thrilling her as she drummed her fingers against the sheets and waited to see if he would take the watch off her wrist.

"Do you even know I could flip you in a second and have my watch back in another?"

"Are you bragging?"

Blatant need blazed in his eyes and she waited, holding her breath, wanting so much for her first foray back into this world with him not to fail.


Growing up in locations like Botswana and Venezuela gave Eve Devon a taste for adventure; her love for romances began when her mother shoved one into her hands in a desperate attempt to keep her quiet during TV coverage of the Wimbledon tennis finals!
When Eve wasn't consuming books by the bucketload, she could be found pretending to be a damsel in distress or running around solving mysteries and writing down her adventures. As a teenager, Eve wrote countless episodes of TV detective dramas so the hero and heroine would end up together every week. As an adult, still hooked on romance and mysteries, she worked in a library to conveniently continue consuming books by the bucketload, until realizing she was destined to write contemporary romance and romantic suspense herself.
GIVEAWAY RULES:
There is a tour-wide giveaway for a $20 USD Amazon gift card or (depending on where the winner lives) a handmade leather notebook.
To be entered just fill out the Rafflecopter form below:
Good luck!