You all know how much I LOVE cooking and eating, and I just love reading culinary romances as well. I am happy to welcome back to the blog the lovely foodie romance author
Kimberly Kincaid
, who is back celebrating the release of her third Line novella,
Outside the
Lines
, a story about a sexy serious doctor and
a though and feisty restaurant manager heroine ;-) Please give Kimberly a warm welcome and you could even win a copy of the book if you answer the question at the end!
The (Other) F-Word
by Kimberly Kincaid
Confession time: I'm a gigantic foodie (what'd you think the F stood for?!)
The Reader's Digest explanation is that all my stories revolve around characters and settings that have a direct relationship with food. Chefs in traditional restaurant settings are my go-to, but I've also written about caterers, wine experts, restaurant owners and personal chefs. Not everyone is professionally trained or fancy. In fact, Jules, the heroine in my latest release, is the manager at Mac's Diner, and her specialty is comforting people through comfort food. The truth is, foodie love can be found in lots of places (even off the pages and in your own kitchen!) if you know where to look for it.
The Sugar Cookie Sweetheart Swap
) where my heroine is bleary-eyed and in need of a caffeine fix the morning after a long night of work. When she finally gets her coveted cup of coffee (made by the hero, of course), she's blissfully happy. Is that a scene with which you can identify? Likely yes, even if coffee isn't your go-to. My goal was to establish that A) my heroine was a "real" person in a familiar situation and B) the hero used food to comfort her.
Outside The Lines
. But experimenting with food is like experimenting with what I put on the page. Drafting, editing, testing… it's all a part of being a foodie, just like it's part of the writing process.
Just be forewarned. Getting hungry as you read my books is an occupational hazard. So snack often, and don't read hungry!
Jules's Stuffed French Toast
Ingredients
:
2 eggs
¼ cup milk (not skim, but 2% is okay)
1 teaspoon vanilla extract
1 8-oz. package cream cheese (not fat free! Trust me on this, it doesn't set up properly), softened
1 Tablespoon honey (I used orange flavored, but any will do)
1 teaspoon cinnamon (plus more for sprinkling)
1 teaspoon granulated sugar
½ cup orange marmalade (I just go from the jar and don't quite measure this— it's more to taste)
One loaf brioche, preferably a few days old, cut into an even number of one-inch thick slices
Cooking spray for the griddle
Directions:
Spray a griddle or non-stick skillet with cooking spray and set over medium heat, but no higher. While it warms, whisk eggs, milk and vanilla in a shallow bowl. Set aside. In a separate bowl, mix cream cheese, honey, 1 teaspoon cinnamon and sugar together until combined. Spread about 2 Tablespoons (-ish, you can eyeball this, really, but you want a good layer) of cream cheese mixture on one side of a slice of brioche. Repeat process with one Tablespoon (again, approximate, but as long as the ratio is about 2:1, you'll be great) orange marmalade on another slice of brioche. Put both slices together like a sandwich (cream cheese facing marmalade). Repeat with remaining bread, cream cheese mixture and marmalade.
Just before cooking (and I do mean just!), dip each side of the "sandwich" in egg mixture to coat the outside of the bread completely, without soaking it through. Place immediately on the griddle. Cook for about 3 minutes on each side, or until the bread is golden-brown and firm to the touch, and the cream cheese in melted through. Repeat with remaining "sandwiches". Sprinkle with a dusting of cinnamon. Serve with fresh fruit or maple syrup. Makes approximately five "sandwiches".
Feed to the one you love, preferably as breakfast in bed!
Outside the Lines by Kimberly Kincaid



As an ivy-league ER doctor who eats double shifts for breakfast (and lunch…and dinner), Blake Fisher has little appetite for anything other than work. Being on the staff at Brenstville Hospital means taking care of people, a need Blake understands all too well from losing his brother to cystic fibrosis eight years ago. When he's asked to coordinate a carnival fundraiser for the cause, he jumps at the chance to help others with the disease…until it lands him side by side with the one woman he never thought he'd see again: his ex-fiancée.

Streetwise and rough around the edges, Jules Shaw is no stranger to earning a living through hard work. But when her job as the restaurant manager of Mac's Diner puts her shoulder to really broad shoulder with Blake Fisher, she nearly balks. She'd rather dodge and deflect than admit the real reason she broke things off, but the catering contract for the carnival means big business for Mac's, and feeding people is Jules's lifeblood.

As Blake and Jules join reluctant forces, they quickly rediscover the spark between them. But the possibility of a future together hinges on coming clean about the past, with potentially devastating consequences. Can Blake and Jules overcome their drastically different backgrounds and learn to love again, or will they always be outside the lines?
Excerpt of Outside the Lines

Blake's eyes flashed, the same stormy green as the ocean in a thunderstorm, and he pinned her in place with his stare. "I don't want you to say you're sorry, Jules."

"Oh." The word collapsed from her lips in more of a throaty sigh than the stubborn affirmation she'd intended, and she swallowed hard. "You don't?"

"No." Blake lowered his attention to their hands, the calluses on his thumb sliding roughly over her knuckles as he blanked his expression and let her fingers go. "I didn't come here for that. In fact, I'm here for something that has nothing to do with you and me."

"Okay," Jules said, extending the word by several syllables to form a question as she belatedly recovered her wits. "What's that?"

"The Brentsville Hospital Carnival For A Cure." He pulled a crisp, dark blue folder from the laptop bag he'd propped over the bar stool next to him. "I'm the event coordinator, and Mac's is the catering restaurant. I came to see your boss so she and I can get a tentative schedule set since it looks like I'll be working pretty closely with her for the next six weeks."

Jules white-knuckled the edge of the apron around her waist, her heart doing its level best to vault clean out of her ribcage. She was so far past this-can't-be-happening, and yet…"You…you're the event coordinator for the Carnival For A Cure?"

"Yeah." Now it was Blake's turn to draw the word into a question. "Why?"

"Because I wrote that proposal. I'm in charge of all the catering and planning for that event on our end."

Jules shifted her weight to stand as tall as her five-foot-nine frame would allow, her palms going slick with realization as she finished, "You won't be working with Serenity for the next six weeks, Blake. You'll be working with me."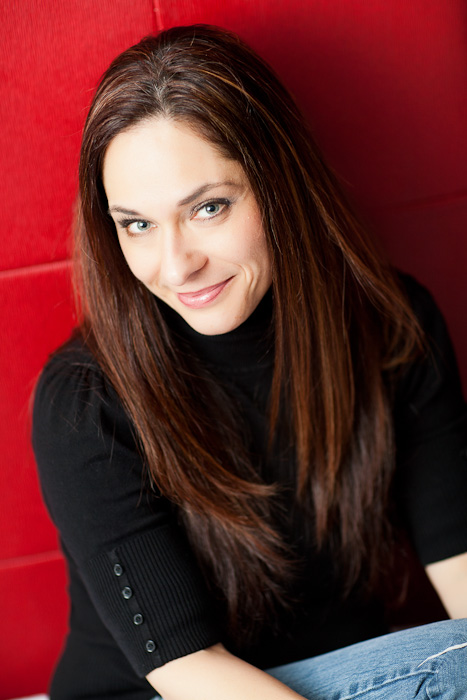 Kimberly Kincaid writes contemporary romance that splits the difference between sexy and sweet. When she's not sitting cross-legged in an ancient desk chair known as "The Pleather Bomber", she can be found practicing obscene mounts of yoga, whipping up anything from enchiladas to éclairs in her kitchen, or curled up with her nose in a book. Kimberly is a 2011 RWA Golden Heart® finalist who lives (and writes!) by the mantra that food is love. She is thrilled to have collaborated on a Christmas anthology with Donna Kauffman and Kate Angell, titled The Sugar Cookie Sweetheart Swap, to kick off her Pine Mountain foodie series with Kensington this October. Her first full-length novel, Turn Up the Heat, will follow in February 2014. Kimberly resides in northern Virginia with her wildly patient husband and their three daughters.


Where you can find Kimberly:
GIVEAWAY: RULES
Kimberly has generously offered an ebook copy of
Outside the
Lines
to a lucky commenter!
To enter just leave a comment and answer this question:
What food/food combination/menu would describe you as a person?
Giveaway is open worldwide and ends on 15 August 2013!