Hey Everyone!
We had so much fun last year we decided to have an encore and celebrate the holidays with all of you and our favourite authors once again, so with Anna we bring you the
Let It Snow Books 2013 Event!!!
Once again prepare yourselves for month long celebrations throughout December, there will be daily author guests with holiday-ish posts, festive interviews and lots of talk about books and of course tons of giveaways! ;-)
So mark your calendars, visit
Ex Libris
daily to enter all the wonderful giveaways and get in the holiday spirit! :-D
This post is the mastersheet of the event, you'll always find the direct link to the day's special post below.
There will be daily giveaways (with Rafflecopter that you can enter on the daily posts) and almost every giveaway is open worldwide, woohoo! (Once again thanks so much to all the generous authors who have donated to the event!)
To help us get the word out about the event (and get some extra entries) please display our badge wherever you can: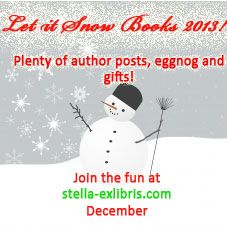 Thank you and let's the fun begin! :-)
Event Schedule: links will go live the day they are scheduled for!
December 1 -
Kimberly Kincaid
December 2 -
Ros Baxter
December 3 -
Jennifer Shirk
December 4 -
Jeanette Grey
December 5 -
Diana Quincy
December 6 -
Kathryn Barrett
December 7 -
Katie McGarry
December 8 -
Sarah Castille
December 9 -
Alison Packard
December 10 -
Christine S. Feldman
December 11 -
Brighton Walsh
December 12 -
Stacy Gail
December 13 -
Robin Bielman
December 14 -
Gina L. Maxwell
December 15 -
Amy Andrews
December 16 -
Jax Garren
December 17 -
Jessica Scott
December 18 -
Christi Barth
December 19 -
Tamara Morgan
December 20 -
Karen Erickson
December 21 -
Robbie Terman
December 22 -
Victoria James
December 23 -
Jennifer St. George
December 24 -
Jennifer Estep
December 25 - Julie James
December 26 -
Nadia Lee
December 27 -
Katie Porter
December 28 -
Amanda Usen
December 29 -
Sydney Somers
December 30 -
Jillian Stone
December 31 -
Lila DiPasqua
So join the fun with us and Happy Holidays! :-)