To continue our holiday preparations and get you in the festive mood I bring you one of the most romantic romance authors I've had the chance to know and read, please give it up for
Christi Barth
! There aren't many things more romantic than Christi's
Aisle Bound series
(
a contemporary romance series about a bunch of friends all working in the wedding industry
), maybe just one thing: her holiday stories! So join us as she shares with us some of her inspirations and let yourself be charmed by the magic and romance of the holidays! :-)
Christmas is a very romantic time of year. (Trust me, I've been watching Hallmark Channel since November 1 – I'm quite convinced of this by now!). Maybe it is the aphrodisiac effects of hot chocolate, or the urge to snuggle inside with someone while snow falls outside. I know twinkle lights make me think of romance whether they are on a Christmas tree or lighting up a patio in the dead of summer. So as a contemporary romance author, a Christmas themed novella is a slam dunk to write. Especially, you might think, because I have experience. My husband Tom and I started dating in mid-November (albeit many years ago).
Now, I don't put real people in my books. I do, however, liberally sprinkle in both actual settings and real events. So I shamelessly mined my experience dating him while starring in a Christmas extravaganza in Minneapolis when I wrote
Tinsel My Heart
—a story about a Christmas extravaganza set in Minneapolis.
There are two tricks to weaving real life into stories. The first is to take whatever event happened and pump it up. Make it bigger, funnier. Here's a peek at what happened in my book at the last dress rehearsal:
There was an old theatre adage about a bad dress equaling a fantastic opening night. If it held true, tomorrow would be one for the record books. The disco ball used to simulate starlight was stuck about a foot above the seats. Somebody had spilled coffee down the front of the Virgin Mary's costume. And he'd caught a glimpse of the shepherd contingent passing around a flask. Ballsy. Worse yet, they hadn't offered Jack a nip. Worst of all, he hadn't kissed Becca in more than two hours.
In the four years I actually did the show, yes, the disco ball did get stuck. A little kid spilled cocoa down my costume. But did anyone pass around a flask? Of course not! We had a tech rehearsal and a dress rehearsal back to back for eight straight hours. It was utterly exhausting and certainly not the time for doing shots. But being tired isn't fun to read about, and thinking about shepherds sneaking a flask around the manger is pretty darn funny. I took the truth and pumped it up.
The second trick is to not let realism bring down the story. I remember almost every night going to Tom's house. He'd leave the house at seven a.m. to go to work, go straight to rehearsal, and we'd roll in about eleven p.m. The heat in the house was off that entire time. In December. In Minnesota. That house was a freaking icebox, and the radiators didn't get it warm very fast. So while I enjoyed the makeout sessions on his floor in front of the Christmas tree, my strongest sense memory is of the icy floor chilling me through layers of clothes, and my teeth chattering while he kissed me. Which led to giggles and more kissing, but I was never warm, let's be clear. And that is definitely not sexy.
So the realistic truth of the matter is that the holidays are downright frigid. But I found a work around, to pull in my real life dating experience while not making my readers cringe and shiver in sympathy. I made my hero an Oscar winning director who only agreed to come back to Minneapolis if he got a car with heated seats. My characters put it to good use…parked and toasty warm after snow tubing:
"Didn't think you'd want to hang out on a frozen golf course in an idling car."

"Why not? We're not idle." To prove her point, she undulated her hips while sliding her hands beneath his sweater.

"Are you serious?" Jack jabbed at the window with his elbow. "There's almost two feet of fresh snow out there. Como Park's a known sledding and tubing spot. Anyone could come by and see us."

A husky laugh bubbled out of her throat. She shoved his coat down and off his arms. "Not if we fog up the windows."
Sure, it was cold (bitterly cold – that can't be said enough), but I loved the way the holidays made our dates seem extra special and glittery. And when the Christmas season rolls around every year, it brings back great memories. I hope you feel some of that magic when you read
Tinsel My Heart
!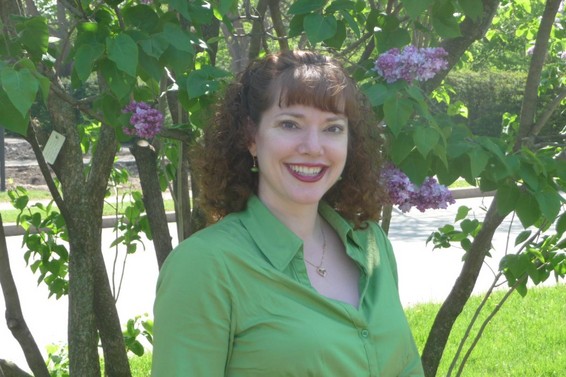 Christi Barth earned a Masters degree in vocal performance and embarked upon a career on the stage. A love of romance then drew her to wedding planning. Ultimately she succumbed to her lifelong love of books and now writes contemporary romance. Christi is President of the Maryland Romance Writers and lives in Maryland with her husband.



Tinsel My Heart by Christi Barth

Becca Huntley's produced the Lyndale Park Players' over-the-top Christmas show for ten years. It's a beloved Minneapolis tradition, and the theater's main fundraiser. But this year's production is in danger of being canceled when their director disappears into rehab. Good thing his directing partner steps in to save the day. Except for the minor fact that he hates everything about Christmas.

Jack Whittaker wiped this town off his shoe with his graduation tassel and never looked back. But duty compels him to fulfill Tyler's promise to direct the show. Even though it means working with Becca, the girl he always wanted, lost to Ty, but never forgot.

It'll take more than a few handfuls of tinsel to soften Jack's heart toward Becca's favorite holiday. Steamy kisses that melt the snow right off his boots are a step in the right direction. They'll both discover that Christmas is about making each other's dreams come true. But will it require sacrificing their chance at a happily-ever-after together?
GIVEAWAY RULES:
Christi has generously offered an ebook copy of
Tinsel My Heart
to a lucky commenter!
To be entered just fill out the Rafflecopter form below
and tell us:
What is your favourite romantic holiday movie or book?
a Rafflecopter giveaway
Giveaway is open worldwide and ends on 4 January 2014!
Good luck!