I love movie soundtracks. And sometimes a certain character or a scene would make me think of a specific song as "their song", so when I was asked what I would like

Gina L. Maxwell

to talk about during her stop at Ex Libris while celebrating the release of her brand new novel, Fighting for Irish in her Fighting for Love series, I knew I was curious to hear about the soundtrack of
Fighting for Irish. So here it is, enjoy! :-)
Fighting for Irish Playlist: 13 Songs for 13 Scenes
by Gina L. Maxwell
1. Irish traveled across the country to find Kat. He sees her for the first time when she walks into the bar for work and he instantly feels drawn to her. The connection between them sparks when she slips next to him and he wraps his arms around her to prevent her from falling.
Journey "Small Town Girl"
2. Irish gets a job at the bar to watch over her, and despite her protests, throws out any asshole who touches or harasses her.
Nickelback "Next Contestant"
3. Irish saves Kat from a drunken assault in the dark parking lot. She's paralyzed from fear and he has to coax her back from the depths of the darkness in her mind.
Scorpions "Send Me an Angel"
(side note: this video shows scenes from the movie Gabriel with one of my favorite actors, the late Andy Whitfield)
4. Irish puts Kat on the back of his crotch rocket and races through the backroads to shake the guys who have been following and threatening her.
Flo Rida "Wild Ones"
5. Irish tracks down the bad guys threatening Kat and makes a "devil's deal" with them to keep her safe.
Alabama 3 "Woke Up This Morning (Sopranos Theme Song)"
6. First time Kat and Irish give in to the crazy sexual tension and proceed to tear at clothes and devour each other (sans kissing).
ZZ Top "Gimme All Your Lovin'"
7. Their first kiss, which is also—in a way—her first kiss ever. It's tentative and tender and beautiful.
David Gray "This Year's Love"
8. Kat breaks down in the shower, finally opening up to Irish about her terrible past. He holds her, comforts her, and reassures her she isn't broken.
Gary Allen "The One"
9. After they fight, Kat and Irish are on opposite sides of her door. He's apologizing to her from the hallway, but she stays silent. It's a huge turning point for each of them.
A Great Big World featuring Christina Aguilera "Say Something"
10. The second fight in the underground tournament followed by getting chased by the bad guys and a gun fight.
Fall Out Boy "Swinging"
11. Making love in the hotel after declaring their love to each other. (The most emotional love scene I've ever written, earning it the modifier of "Epic.")
John Mayer "Edge of Desire"
12. Bad guys catch up with them, incapacitate Irish, and kidnap Kat as he watches helplessly. Once free, Irish vows revenge and sets plans in motion to save her and punish those responsible.
Drowning Pool "Bodies"
13. Standing in the moonlight at the edge of the ocean in Oahu after Vanessa and Jax's wedding, they decide to stay in Hawaii and talk about their "forever."
Israel "Iz" Kamakawiwo'ole "Somewhere Over the Rainbow/What a Wonderful World"



Book #3 in the Fighting for Love series




He'll fight for her life. She'll fight for his love.

Former MMA fighter Aiden "Irish" O'Brien hasn't stepped into the ring since he accidentally took someone's life in the heat of rage. When his friend calls in a favor that sends him south to check on family, Irish figures he's got nothing to lose. His life is on the ropes. The least he can do is make sure the sexy redhead is safe.

Kat MacGregor has forty-eight hours to settle the twenty thousand dollar debt her deadbeat ex-boyfriend owes a crime boss. If she doesn't, she'll pay for it—with her life. Kat's halfway out the door when a sexy new guy walks into the bar and insists he's there to help.

Irish is forced to fight in the underground MMA circuit to win the money she needs. But he's been lying to Kat. About who he is, about knowing her sister, about why he comes home bruised every night. She's the best thing that's ever happened to him, but breaking her trust will cost him the most important fight of his life: the one for her heart.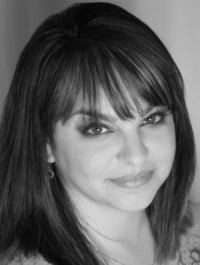 New York Times and USA TODAY bestselling author, Gina L. Maxwell, is a shameless romance addict with no intentions of ever kicking the habit.

Growing up, she dreamed of helping people escape reality with her sublime acting abilities. It wasn't until college when she realized she had none to speak of, thereby derailing her lifelong plans. Another ten years would pass before she discovered a different means to accomplishing the same dream: writing stories of love and passion for romance addicts just like her.

Thanks to the support of her amazing family, Gina is now the Boss of the world's first organized romance mafia, the Maxwell Mob, and living her dream of bringing a little romantic fantasy to the world—one steamy novel at a time.
One lucky winner will receive a $50 Amazon or B&N Gift Card!
To be entered just fill out the Rafflecopter form below:
a Rafflecopter giveaway