Today I have Jess C. Scott, author of the paranormal novella The Devilin Fey tell us about book covers. I was always curious to know how a book received the cover with which it was later marketed and sold, so read on if you are like me, and want to know some "behind the scenes" professional secrets.
Cover Art—and the Concept of Flowers—in "The Devilin Fey"
by Jess C Scott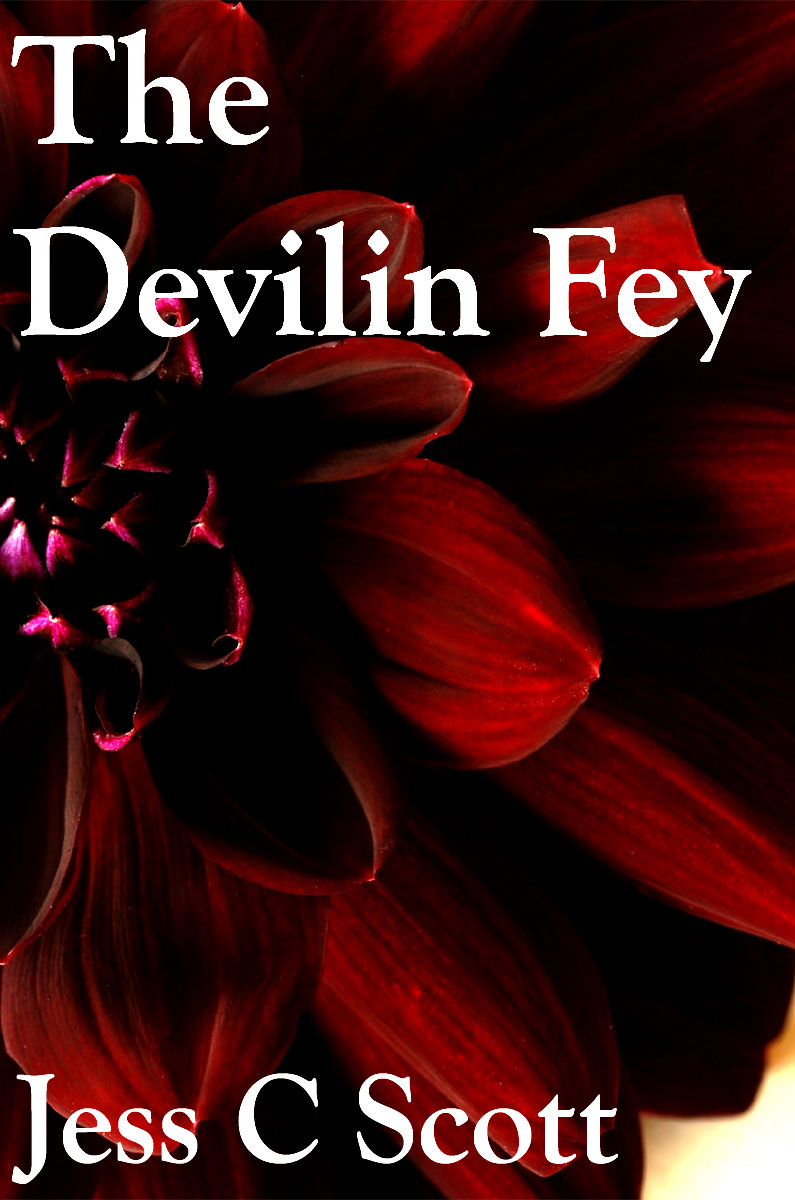 THE DEVILIN FEY
A novella of two stories, featuring an incubus and succubus. Story #1 features a demure young woman unleashing the "devil in" her, through the intimacy with an incubus. Story #2 features a voyeuristic succubus driven by jealousy and a dangerous fixation.
I wanted something visually and conceptually appealing, for the cover art. I was initially looking at lots and lots of midnight-and-moonlight-themed stock photos—I almost settled on a dark blue background one, with the silhouette of a raven perched upon the crooked branch of a tree.
I had been doing a search for "flowers," and came across one of her photographs titled, "Dahlia."
There's a reference to the flower in "The Devilin Fey," when the narrator has a vision of "...a sepia-toned black dahlia flower."
Later, the incubus writes (in a note to the narrator): "I envisioned my heart a dahlia, crushed in the gutter, while you gave yours to another."
Lucius (the incubus) also presents Caitlin Fey with a bouquet of purple and white lilies that are "straight from the underworld." The flowers are "everlasting…[and] won't die."
Ms. Layne was gracious enough to allow me to use her photo—all I had to do was slightly increase the contrast, and crop the photo a little bit.
While I can't really remember what inspired/influenced the undying lilies, I might re-visit "the underworld" mentioned in this novella, in future work which features an incubus/succubus.
I tend not to follow trends, and write for readers who appreciate something different from the norm (when I write alternative work, that is; I have some mainstream projects lined up too). I'll see if it's flowers (once again) that lead me toward and through the future paranormal romance works I have in mind.
P.S. Come to think of it, the stargazer lilies in Nirvana's MTV Unplugged performance (
http://www.nirvanaunplugged.net/about
) probably were an influence on me, with the inclusion of flowers in the story.
Jess identifies herself as an author/artist/non-conformist. "The Devilin Fey" recently hit #1 in Amazon's "Hot New Releases in Bargain Books." She is getting ready to launch two series (a contemporary "seven deadly sins" series, and an urban fantasy featuring cyberpunk elves). Her website is
http://www.jesscscott.com/
.
Thank you Jess for telling us the story behind the cover of The Devilin Fey! I can't wait to see your "seven deadly sins" series, it was a theme I always found fascinating, I'm curious to see your take on it.
Jess has generously offered
1 ebook copy of The Devilin Fey
to a lucky commenter, here are the giveaway details:
1. You have to be a follower of Ex Libris
2. Leave a comment/question for Jess
3. Leave your e-mail address so I can contact you if you win
Giveaway is open internationally and ends on July 29.