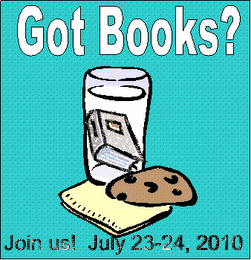 The Got Books? giveaways have ended, random.org has spoken and I have a lot of winners to announce, but first let me say Thank you.
I would like to say a BIG thank you to all the wonderful and generous authors who have contributed prizes to the giveaways, thanks to you, the Got Books? event was really an extraordinary book extravaganza, and we spread the love! You can't imagine how many people were interested in your books, the huge amount of entries proves that. Got Books? wouldn't have been the success it was without YOU, so thank you!!
Thank you to:
Thank you to Danielle and Gina, the brilliant masterminds behind Got Books?, Thank you for having such a fantastic idea and then organizing it so well! It was wonderful, can't wait for next time! :-D
And thank you to all of you who entered the giveaways, I hope you had fun!
And now finally, here are the winners:
Winner of French Fried by Chris Dolley is #11 Heidi V.
Winner of International Kittens of Mystery by Chris Dolley is #3 Anne Royce
Winner of The Devilin Fey by Jess C. Scott is
#43 Reading Angel
Winner of Dark Oracle by Alayna Williams is
#3 Jen7waters
Winner of Bloodlust by Zoe Winters is #49 HRJ Rita
Winner of Promise is #71 Jennifer Marshall
Winner of Liberation by Maria Lucia is #26 Erika
Winner of Wind Warrior by Cynthia Roberts is #1 Giada M.
Congratulations to the winners!!
I will shortly send you all e-mails, please reply back within 48 hours or I will have to draw new winners. (And the soonest you get back to me, the soonest I can contact the authors to send out your prizes! ;-)
Those of you who haven't won this time, there is still 2 giveaways going on at Ex Libris: