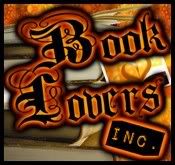 I have great news to share with you today: I was recently invited to join the elite club of Book Lovers Inc.! *jumps up and down excitedly*
The Book Lovers are an international bunch of book obsessed reviewers (obsessed with reading, obsessed with book buying, obsessed with reviewing and obsessed with always discovering new authors and books to add to our TBR ;-D lol).
If you haven't heard of Book Lovers Inc. yet, tarry no more: there are great features (hilarious cover debates, gorgeous pics exploring different corners of the world, rants and raves, spotlight on fictional hotties, and I could go on and on, because there are so many more great things to read there) and TONS of fantastic giveaways!! Drop by, take a peek, you can find us
HERE
.