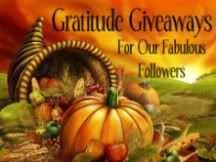 November is the month to be thankful. I started blogging this year and I am so grateful for all of you wonderful fellow bloggers, readers and authors I got to meet ever since I discovered the blogosphere. Thank you for your kindness, humour, friendship and help! Thank you for following Ex Libris and for every comment you leave, they brighten my day! :-D
Inspired Kathy from
I am a Reader Not a Writer
had this great idea again to say thanks to our wonderful followers and reward them for their loyalty in this
Gratitude Giveaway Hop
.
(After you have entered my giveaway don't forget to scroll down and enter the giveaways at the other participating blogs, you'll find their links in the list below.)

I would like to offer everyone something they would like, so here is a selection of books from different genres, I hope you'll find one to your taste:

Urban Fantasy
Historical (Scottish/Highlander) Romance
Knight in My Bed by Sue Ellen Welfonder
Paranormal Romance
Strange Neighbors by Ashlyn Chase
Mystery/Suspense
Photo, Snap, Shot by Joanna Campbell Slan
Chick lit
The Wish by Sasha Blake

GIVEAWAY RULES:
You have to be a follower of Ex Libris to be eligible to enter, as I would like to reward my loyal followers :-)

In the form I ask for your profile link (if you follow through GFC), however if you follow any other way please say so (e-mail subscriber, Twitter follower, etc. and leave that profile name/link)

There will be 3 winners: 1st and 2nd winners will have their pick of the above books, the 3rd winner will receive a selection of swag.
Giveaway is open worldwide!
Ends on Sunday 28 November 2010
All you have to do is fill out the form below to be entered.
Extra entries:
You can spread the word and get
+1 for every time you post about the giveaway
(1 daily per place), please post a comment below with the direct link to your extra entries.