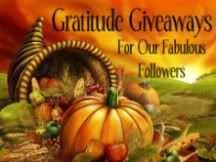 Wow, what an amazing giveaway hop this one was! I had a great time, and was very happy we had such a long time to enter the giveaways as there were so many blogs it took me days to go through the whole list :-)
Thank you again Kathy for organizing it and can't wait for the next one!!
As I said I'm very grateful for all of my wonderful followers, that you are interested in what I think about books and I always LOVE reading your comments and thoughts!!
Welcome to all my new followers, I hope you'll stick around as I have many more exciting events planned for the near future (and lots of giveaways are to come too)!
But now without further ado here are the 3 lucky winners whom Random.org liked this time:
Winner #1
entry #78 Rachelle Hayes
Winner #2
Winner #3
entry #175 Michikit
Congratulations winners! I have sent you all an e-mail, please reply with your book choice and shipping address within 48 hours or I will have to draw other winners.
For reminder, here are the book prizes:
Urban Fantasy
Historical (Scottish/Highlander) Romance
Knight in My Bed by Sue Ellen Welfonder
Paranormal Romance
Strange Neighbors by Ashlyn Chase
Mystery/Suspense
Photo, Snap, Shot by Joanna Campbell Slan
Chick lit
The Wish by Sasha Blake