How does one go and introduce THE revelation book of 2010 and the wonderful author who is to be thanked for it? I just can't. If you have crossed me on the net, either on my blog, on Twitter or Facebook you must know which book I'm alluding to. No big mystery, no suspense. I have been praising this book tirelessly everywhere and all the time. It
topped my Best of 2010 List
,
received more awards in my Most... of 2010 survey than any other book
. By now you certainly must know which book and author I'm talking about. YES!
Please give the warmest welcome to the wonderful
Sonya Bateman
author of the fantastic
Master of None
!
ps: and just because the cover looks so great:
~~~~~~~~~~~~~~~~~~~~~~~~~~~~~~~~~~~~~~~~~~~~~~~~~~

Dying for a Book Sale
by Sonya Bateman
Happy blogoversary, Stella! Thanks for having me over again – I'm honored to be part of the celebration!
Since this is a party, and parties need stories (and I happen to be a storyteller), I thought I'd share one with you. This is the story of a writer who'd been working for ten years without success, and finally received The Call under very interesting circumstances. We'll call her Sonya, because... okay, I confess. It's me. And trying to disguise my name by spelling it backwards just doesn't sound right (Aynos? Go ahead, say it out loud...).
So. Ten years, eleven novels, finally agented, but no sales. My first agented novel didn't sell (and the ten novels before that...well, we don't speak of those). I'd spent a year writing a new one for my agent, and as our story begins, Novel Number 2 had been out on submission for 15 months, and there was very little hope that it would get picked up. I was contemplating suicide either spending another year writing yet another novel that wouldn't sell, or giving up writing and becoming a call girl secretary.
In the meantime, at least I was gainfully employed. Sort of. I worked at McDonalds.

On this day just like a thousand others before it, I donned my monkey suit uniform and dragged my butt into work, arriving as usual about 15 minutes before my shift so I could hope to be struck by lightning and spared this torment get into the proper McMindset. Happily, a co-worker had brought in donuts. I snagged a powdered-sugar-coated, red jelly-filled donut and sat in the closet break room to await my clock-in time.
In the middle of donut consumption, one of the managers popped in and told me that I had a phone call. Nobody ever called me at work with good news. Ever. I figured my son had gotten kicked out of school, or the house had burned down, or my husband had been pulled over on the way home from dropping me off for Driving While Poor (a serious offense in Stop Lowering Our Property Values, You Bums, USA). I took the call with my half-eaten donut and much trepidation, while visions of sirens and dollars signs danced in my head.
It was, indeed, my husband – but he hadn't been pulled over. He told me that I had to call my agent. Right now.
A different sort of panic filled me. Conversely to work phone calls, one's agent does not generally call with bad news—but my agent was in New York City, we weren't allowed to make long-distance calls from the store phone, and I didn't own a cell phone. So I ran out of the fancy closet office, the red jelly from my donut smeared and dripping all over my shaking hands, and started screaming that I needed to borrow someone's phone.
The grill manager thought I was bleeding to death. Several moments of confusion ensued as I tried to stammer that 1) I was not, in fact, dying, and 2) If it wasn't terribly troublesome, might someone kindly allow me the use of their cell phone (which came out sounding like OhGodPhoneButtonsAgentBookPleaseFwuuuuh).
At last, a phone was shoved into my sticky hands. I called my agent. She said something about Pocket and a two-book deal, and a bunch of other stuff I didn't hear after that. I called my husband back and babbled a fractured account of the agent conversation. Thankfully, my husband speaks fluent Tormented Writerese, and understood what I was saying: I'd sold something. Finally.

Everyone who ate at McDonalds that afternoon had the best double cheeseburgers ever. They were flavored with tears of joy.
-----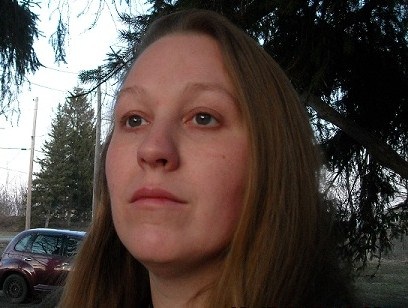 Sonya Bateman lives in upstate New York, where there are two seasons: winter, and construction. Currently, the household includes her husband and son, her sister and two nephews, five cats (four of them are insane) and one dog who wishes to be a cat.

In addition to spending a lot of time writing, she is attempting to learn how to speak Japanese. So far, she can say hello, thank you, and why don't we go to your place for a drink? She does not plan to speak to any native Japanese speakers with her limited vocabulary at this time, as the conversation may lead in the wrong direction.
You can reach Sonya at her website:
http://sonyabateman.wordpress.com/
or
her blog
.
Gavyn Donatti is the world's unluckiest thief. Just ask all the partners he's lost over the years. And when he loses an irreplaceable item that he was hired to steal for his ruthless employer, Trevor–well, his latest bungle might just be his last. But then his luck finally turns: right when Trevor's thugs have him cornered, a djinn — otherwise known as a genie — appears to save him.




Unfortunately, this genie — who goes by the very non-magical name of "Ian" — is more Hellboy than dream girl. An overgrown and extremely surly man who hates Donatti on the spot, he may call the thief master, but he isn't interested in granting three wishes. Ian informs Donatti that he is bound to help the thief fulfill his life's purpose, and then he will be free.




The problem is that neither Donatti nor Ian has any idea exactly what that purpose is.




At first Donatti's too concerned with his own survival to look a gift genie in the mouth, but when his ex-girlfriend Jazz and her young son get drawn into the crossfire, the stakes skyrocket. And when Ian reveals that he has an agenda of his own — with both Donatti and the murderous Trevor at the center of it — Donatti will have to become the man he never knew he could be. Or the entire world could pay the price.


"Sonya Bateman's gutsy debut is a hell of a lot of fun. I can't wait to read more from this exciting new voice in the genre."
—Jaye Wells, author of Red-Headed Stepchild

"Biting wit, blazing-hot action, and a take on the djinn that is excitingly original."
—Mark Henry, author of Battle of the Network Zombies

"A fun read. One part car chase, one part irascible thief, and one part djinn magic. Shaken, not stirred."
—J. F. Lewis, author of Revamped



Book #2
Master and Apprentice
is to be released on 29 March 2011! Yay, can't wait! :-D
GIVEAWAY RULES:
Sonya has generously offered a paperback copy of
Master of None
and an ebook copy of her novella The Getaway (which appeared in The Mammoth Book of Paranormal Romance 2).
To be entered all you have to do is:
1.
fill out the main form
so I have your contact info (
just once
, if you have already filled it out for a previous giveaway that's enough)
2. Leave a comment/question for Sonya,
share with us one of your happiest memories or when you received wonderful news.
Giveaway is open worlwide and ends on Friday 4 March 2011.