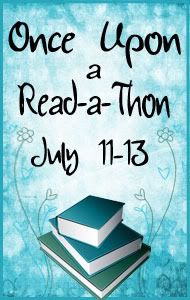 Update #3
What I read on Wednesday
I read
Forsaken by Shadow by Kait Nolan
, and even though I had really not much time to read as it was a busy day with work, then my sister's celebration in the evening, I stayed up again until past 1am and read up to 70%.
It is a fantastic story, the writing is amazing, can't wait to read more by Kait Nolan!
Finish Line
So here is what I have read during the Read-a-Thon:


Deceived by the Others by Jess Haines
Book #3 in Jess Haines' H&W Investigations UF series, and if you haven't seen it yet: I'm doing a special week-long event: the week of July 11-16 is Spotlight on the H&W Investigations series at Ex Libris! There are lots of guest posts, book reviews and giveaways and even Jess Haines stopped by with her characters! :-)
So check it out, it's well worth it, the H&W Investigations series is a great UF series!
You can
find the schedule of the event here
.
The prequel novella in Sierra Dean's Secret McQueen series was another fantastic read, again: if you haven't read this series yet, you'd better start, you don't know what you're missing!
Kathryn, The Kitten by Lavinia Kent
is the first instalment in her new The Real Duchesses of London series
, which is a historical desperate housewives kind of novella series. It was wonderful and I can't wait to read the subsequent novellas! Thankfully Book #2
Linnette, The Lioness
was released yesterday, yay!
Kait Nolan was a new author to me, but after my discovering her I'll definitely read more of her novels as I really enjoyed her writing!

Mini Challenges
I've completed a couple of mini challenges, you
can find them here
.
Conclusion
I have to say I am most pleasantly surprised that I got to read so much during the Read-a-Thon as I was working and also had a lot of other programmes in the evening. Well I'm sure not rested (reading until 2am for several days with no afternoon nap does that to people), but I am more than satisfied with what I've achieved :-)
I'm sorry I wasn't able to participate in the Twitter chat and more community aspects of the Read-a-Thon, but I knew it would be like this since the Read-a-Thon was scheduled for weekdays and work keeps me completely busy during the week. Hopefully next time :-)


And how did you do on the Once Upon a Read-a-Thon? Have you been productive? Did you meet your goals?