I am very happy to host on Ex Libris today an author I just recently discovered but who shot straight to my favourite authors list:

Leigh LaValle

! I devoured Leigh's historical romance novel The Runaway Countess in less than a day and already know it will be a story I'll re-read many times (you can read my review HERE). Today Leigh will share with you a very personal story regarding her love of romance novels and how her debut novel The Runaway Countess came to be. Please give her a warm welcome and read on, you could win a copy of the novel I loved so much!
How I envision the delicious Trent <3
Thank you for having me here at Ex Libris! I am excited to share my debut with you all.
THE RUNAWAY COUNTESS
is a book that I will always hold close to my heart. Not only is it my first published novel, it is also inspired by a romance that colors my entire life- my parent's marriage.
My mom was a die-hard Democrat and my dad a card-carrying Republican. This made for many interesting discussions at the dinner table. As the wine flowed, so did the heated opinions. I soon realized that, while my parents might spar over the evening news, they were never actually angry at each other. They agreed to disagree, even if they still argued about it. In other moments, there was much laughter and joy shared between them.

Maid Marian aka Mazie and Roan
As the US descended into bickering and battle lines during the 2008 presidential election, I decided I wanted to write a story that demonstrated how two sides of an issue could both be right. I chose the Robin Hood legend as my theme, and the Regency as my backdrop. The hero, the Lord Lieutenant of Nottinghamshire, is a firm believer in the law; rules are meant to be followed. The heroine is an accomplice to the famed highwayman who steals from the rich to give to the poor. As the two spar and cajole and test each other, I tried to show how both sides of the issue have merit, how both characters have sympathetic reasons for their beliefs. And how those on opposing sides could still fall deeply, madly, passionately in love with each other.
During the time I was writing
THE RUNAWAY COUNTESS
, my mom was diagnosed with cancer. She, who unwittingly introduced me to romance novels, really wanted to read my book. I printed out copies of the chapters and she read them with a pencil in hand. My early reactions to her critique were typical to any daughter- I was upset, defensive and felt misunderstood. But, after I put aside my pride, I realized my mom had some really good points. Her main comment? She asked if my heroine had stomach problems. "Her stomach is up, it is down, it is churning. Does she have gastrointestinal issues? Is this part of the plot? Do you think this is a wise choice?" At first I thought my mom was joking. She was not. When I went back and read that early version of my first chapters, I discovered I had used 'her stomach flipped' or some such description 17 times. I still have those pages my mom marked in pencil. I will treasure them always.
My mom did not finish reading my book. She died on March 8, 2010. I think it is a beautiful karma that my release day, far from my control, was set as March 6.
Even though my mom is not here to celebrate my book release, I feel her everywhere. I know she would be proud. She appreciated romance novels and women's freedom of expression in all realms. While she was in Hospice, I have a strong memory of sitting by her side, holding her hand and reading a light contemporary. Something in the story made me laugh, a sound that echoed in the sorrow and deep mystery surrounding the room. At once, I felt guilty. Perhaps this was not appropriate, perhaps I should not be laughing. But, I decided my mom would appreciate it. She was a woman who knew how to laugh. And the next twenty-three hours of that day would be spent shouldering a grief that was too big for me to bear. For that hour, I held my mom's hand, and we shared the power of romance novels. We laughed one last time.
My parents were married almost forty years. In the last year of their time together, they taught me what true romance means. My father, the suit-clad, rule-abiding lawyer laid himself at my mother's feet and served her with unbounded love. He gave her everything while he still could. And my mom, she passed away moments after my father came into the room and gave her a good-morning kiss. We all know she was waiting for that. Waiting for one last kiss.
As Mazie and Trent step out into the world, I hope they bring with them the spirit of a romance that can never die. For that is the beauty of story, it lasts forever. And love, it lasts even longer.

How about you, Dear Reader,
has a romance novel saved your day? Has a story surprised you with laughter or tears during one of life's impossible moments? I'd love to hear your story!
Or just stop by and say hello. One commenter will win a digital copy of
THE RUNAWAY COUNTESS
.
Excerpt

Mazie took another sip of the liquor, more to stall than anything else. "I have decided upon a proposition which may be of interest to you."

His body froze at the word proposition. Trent stared at her, his gaze almost aggressive. His eyes dipped down to her lips and, for a moment, he looked like he wanted to kiss her. No, not kiss her, devour her. He put down his glass, as if the moment she invited his advances he would grab her.

Heat flashed across her skin. She floundered inside her own heartbeat. "I have some things that you want, and you have some things that I want. Can we not come to an agreement?"

"What is your offer?" His voice carried the slow burn of whisky.

She moderated her tone to be calm despite her quick breaths. "I will tell you everything I know about the Midnight Rider."

Trent scowled and she held up her hand. "I have disclosed much of what I know, but we should ride out, as you proposed, and I will show you where I met with him. I will write down the confession of my good deeds—"

"Thefts."

"And I will work with you to regain the good will of the villagers. I have their ear, as you are aware, and can spread rumors of your generosity and kindness."

"And my side of this bargain?" Displeasure creased between his brows.

"You will allow me use of the house and immediate grounds. I will no longer be locked in my chamber." She would have her freedom, or some semblance of it. Enough that escape would be possible.

"Under supervision, I assume."

With an ambiguous wave of assent, Mazie handed him her glass and watched him put it down. She refused to give him a verbal agreement. Taking a breath, she plunged into the heart of the matter. "Once the Midnight Rider is found you will let me go. Free."

He straightened to his full height and studied her with that gaze again, the one that revealed the magnetism between them, the deep current moving swiftly, inevitably, toward dangerous seas. "One week."

"What?"

"You have one week to provide me with his location. If you wish to stay here, rather than gaol, you must prove your use."

"But I do not know his location." One week was not enough time. She needed to supply Trent with misleading information, monitor the guards and devise an escape plan in case Roane did not get to her first. "One month," she countered.

"One month." Trent raised his brows, his grey eyes glittering. "You will remain under my control, and do as I say."


"Yes, my lord."

He frowned at the sarcasm she did not bother to hide. "And you will no longer seek to deceive me, either by artifice or by silence. I do not enjoy surprises, Lady Margaret." He took a step toward her and she had to tilt her head back to hold his gaze. "If I discover your continued duplicity, I shall consider our agreement forfeit and send you to Harrington."

"Agreed," she acquiesced as if she had nothing to hide, though she felt as if she were seated atop a runaway horse. "Do we have a bargain?"

"We do."

She pressed her tongue to the roof of her mouth, binding her relief into a tiny ball that he would not see. "I am glad we could come to an understanding."

"Tomorrow we will ride out early."

"Of course." She silently congratulated herself. She need only outwit him for four weeks and she would be free. Trent was a gentleman who loved to talk of honor. He could be trusted to uphold his side of the bargain. She, however, had no intention of keeping their agreement. What did that make her?

Desperate.



Once the darling of high society, Mazie Chetwyn knows firsthand how quickly the rich and powerful turn their backs on the less fortunate. Orphaned, penniless and determined to defy their ruthless whims, she joins forces with a local highwayman who steals from the rich to give to the poor.




Then the pawn broker snitches, and Mazie is captured by the Lord Lieutenant of Nottinghamshire. A man who is far too handsome, far too observant…and surely as corrupt as his father once was.




Sensible, rule-driven Trent Carthwick, twelfth Earl of Radford, is certain the threat of the gallows will prompt the villagers' beloved Angel of Kindness to reveal the highwayman's identity. But his bewitching captive volunteers nothing—except a sultry, bewildering kiss.




And so the games begin. Trent feints, Mazie parries. He threatens, she pretends nonchalance. He cajoles, she rebuffs. Thwarted at every turn, Trent probes deep into her one vulnerability—her past. There he finds the leverage he needs and a searing truth that challenges all he believes about right and wrong.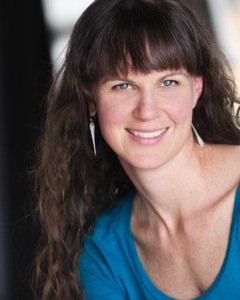 Leigh LaValle was born in a time when ladies shopped at the modiste and rogues sent heated looks across a crowded ballroom. Time slipped forward a few hundred years, and she currently lives in the Pacific Northwest with her family. When she is not writing about said ladies and rogues, mommying, or reading, she is rarely seen cleaning. More often, she is found hiking or, when she is really lucky, in the white powder of the ski slopes. She is also a devoted yoga practitioner and instructor.

You can reach Leigh on her website, blog, Twitter, Facebook and Goodreads.
All you have to do is leave a comment answering Leigh's question:
Has a romance novel saved your day? Has a story surprised you with laughter or tears during one of life's impossible moments?
Giveaway ends on 26 April 2012 and is open worldwide!
Good luck!