Today I am very happy to welcome to the blog and introduce you to

Juliana Ross
, whom I just recently discovered thanks to her debut novella Improper Relations (released by Carina Press on April 23rd) which blew me away. Improper Relations is an extraordinary erotic historical romance that captivated me from the beginning and I can't wait to read more from Juliana, so I was very happy when she agreed to share with us her story on how she got The Call. Please give her a warm welcome and read on, you could win a copy of her book!
You don't have to be a writer to imagine what it's like to Get The Call.
Just think: you've labored over a manuscript for months, even years. You've sent it forth into the world. But time and again, the response is disappointing. It's "not right for us." It's "not what we're looking for at the present time." Or....nothing. Just silence.
And then, one day, when you've nearly given up hope, it happens.
The day I Got The Call had started out well. My dad, who lives thousands of miles away, was visiting. We'd gone out for lunch with my sister, my aunt and my four-year-old daughter. It was early June, and we'd eaten outside, in the dappled shade of a tree-lined terrace. I don't remember exactly what I ordered, but it was delicious. My daughter had even eaten some of her lunch, too, which was an unexpected bonus.
We'd walked back to my sister's, a few blocks away, and I'd been getting ready to drive home. It was just past 2:30 and I had to pick my son up at school at 3:00, so I remember that I was feeling just the tiniest bit frazzled as I shepherded his sister to the bathroom and collected her shoes and said my goodbyes.
And then I heard it. My phone was ringing. My phone never rings—only about three people have the number. I picked it up and looked at the display: long distance, but a real long-distance number. Not some 1-866 combination that I would know to ignore.
I answered the phone, and that's when time stood still.
A friendly voice asked for me by name. I said yes, this is she. The voice then said, "This is Angela James, and I'm calling from Carina Press."
I think that's when I started jumping up and down.
In all honesty I can't tell you exactly what Angela said to me after that. Something along the lines of loving
Improper Relations
and wanting to acquire it. It was hard to hear—my heartbeat was roaring in my ears and my hand was shaking so much I was having trouble holding my phone.
"Do you have a few minutes to talk?" Angela asked me.
And that's when it dawned on me: I didn't. I looked at my watch—it was a quarter to three. I had precisely 15 minutes to drive all the way across town, back to my neighborhood and my son's school. I was going to be late. Seriously late.
And so I had to say to Angela, "I can't believe I'm saying this, but I don't—I have to pick my son up from school, and I'm late already."
Angela's a mom herself, so I'm sure she appreciated the push-pull I was feeling. We both laughed, and she promised to send me an email with all the details of her offer. She congratulated me again, and then said goodbye.
It had really happened. My little novella—the one I'd written in near-secret, my sister its only beta reader—had found a home. I told my sister, who was pretty frantic by that point, and we hugged and jumped up and down some more and I think we may have cried a little bit.
Then we shared the good news with my dad and aunt, who were astonished as they hadn't even known I'd written a book, and I grabbed my little girl and zoomed off to pick up my son.
I really shouldn't have been driving. My hands were shaking pretty badly, and the grin on my face stretched from ear to ear. I was desperate to call my husband, to tell him the amazing news, but I don't have a hands-free device for my phone (and, besides, I needed to focus all my attention on driving).
A half hour later, my face sore from smiling, I'd collected my son (nearly ten minutes late, yikes), had made it home and had started making my own calls—to my husband and all my friends who had supported me when I had first started writing.
Let me tell you: Getting The Call is amazing. But do you know what's even better? Making The Call to tell the people you love you've sold a book.
It's not the best feeling in the world—holding my newborn babies for the first time will always be the summit of my life's experiences—but it comes close. Really close.
So tell me:
what's at the top of your list? Have you ever Got The Call? Or had a similar experience? And did it live up to your expectations?
An editor by profession but an historian by inclination, Juliana Ross lives in Toronto, Canada, with her husband and young children. In her spare time she cooks for family and friends, makes slow inroads into her weed patch of a garden, and reads romance novels (the steamier the better) on her eReader.
You can find Juliana on
her website
,
Goodreads
,
Twitter
,
Facebook
and—her newest obsession—
Pinterest
.
Dorset, 1858

When Hannah's caught watching her late husband's cousin debauch the maid in the library, she's mortified -- but also intrigued. An unpaid companion to his aunt, she's used to being ignored.

The black sheep of the family, Leo has nothing but his good looks and noble birth to recommend him. Hannah ought to be appalled at what she's witnessed, but there's something about Leo that draws her to him.

When Leo claims he can prove that women can feel desire as passionately as men, Hannah is incredulous. Her own experiences have been uninspiring. Yet she can't bring herself to refuse his audacious proposal when he offers to tutor her in the art of lovemaking. As the tantalizing, wicked lessons continue, she begins to fear she's losing not just her inhibitions, but her heart as well. The poorest of relations, she has nothing to offer Leo but herself. Will it be enough when their erotic education ends?



GIVEAWAY:
Juliana has generously offered an ebook copy of
Improper Relations
to a lucky commenter!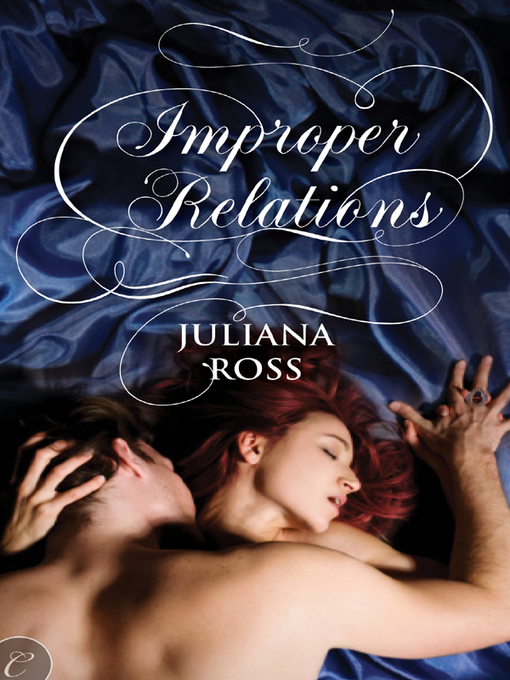 All you have to do is leave a comment and anser Juliana's question:
what's at the top of your list? Have you ever Got The Call? Or had a similar experience? And did it live up to your expectations?
Giveaway is open worldwide and ends on 11 May 2012!