Edward Who? Real Vampires Rate Their Fictional Cousins
by Susannah Sandlin
Author's Note:
Last night, author
Susannah Sandlin
had the chance to sit down with Aidan Murphy, Mirren Kincaid, and Will Ludlam, the leaders of the vampire community of Penton, Alabama, whose story is told in the
Penton Legacy series
(Mirren's story,
Absolution
, comes out on October 9).
A quick intro:
AIDAN
was an Irish farmer in his human life, which ended when he was turned vampire in 1601, in his late twenties, during the Battle of Kinsale. He's serious and steady.
MIRREN
was a Scottish-born Gallowglass mercenary until turned vampire in 1605 Ireland in his early thirties. He's big, grouchy, and likes to behead wayward vampires with his sword, Faolin.
WILL
was a 22-year-old college student when he was turned vampire (by his father, no less) in 1969. He's a total smartass.
Okay, guys, overall, what do you think of vampires in books and movies? I know you have this secret fascination with how your kind are portrayed.
Will:
I like Barnabas Collins. That dude had some radical hair.
Mirren:
You're so full of (censored).
Aidan:
Some of that vampire stuff is bizarre. I mean, sparkling in sunlight? I want to sparkle in sunlight.
Will:
You'd sparkle all right—while you fried up all nice and crispy.
Let's talk specifics. I'll name a fictional vampire; you give me your reactions. You brought him up—Edward Cullen of Twilight.
Mirren:
He's such a (
censored
).
Will:
Mirren, if you don't stop cursing she's gonna censor…hey—keep those ham-sized fists to yourself!
Aidan:
Edward is kind of controlling, don't you think? I mean, talk about passive-aggressive.
Will:
He has to be controlling—that Bella chick is in serious need of some caffeine or something.
Mirren:
Nice truck, though. Forget the woman; give me the truck. It's sweet.
Okay, okay. I happen to know all three of you watch "True Blood." Vampire Bill.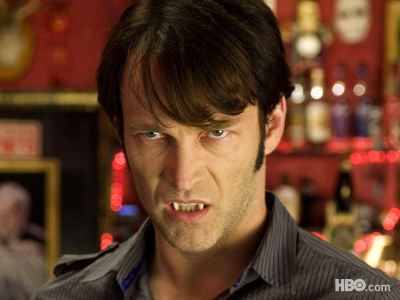 Bill Compton

Will:
Zzzzz (makes snoring sounds)
Aidan:
Oh, come on. He tries to do the right thing.
Will:
Yeah, sounds like you. You're boring, too.
Mirren:
Want me to kill Will for you, A?
Aidan:
No, he just talked himself into extra patrol duty this week.
Here's another one for you: Eric Northman.

Eric Northman

Will:
My hero! Man, Eric has women tripping over him, and he can freakin' fly.
Mirren:
What's with the pink eyes, though?
Aidan:
Yeah, the show's makeup people need to work on that. All the vampires have pink eyes. What's up with that?
Will:
Pam doesn't have pink eyes (purrs). I'd do her.
Mirren:
No you wouldn't—she's too smart to do you.
Okay, what about the female vampires. Who do you like besides Pam?
Pam
Aidan:
Who says we all like Pam? That woman's got an attitude.
Will:
You're just intimidated by her.
Aidan:
Absolutely. She'd turn on you in a heartbeat.
Mirren:
I like the tall brunette vampire who hangs out with that Rachel Morgan witch—Ivy. I like Ivy.
Will:
You just like Ivy because she rides a motorcycle. Besides, she's into other girls. Actually, so is Pam, now that I think about it.
Mirren:
Your point?
Will:
(pauses) Um, yeah. I see what you mean. Ivy and Pam together…yeah.
What about Jean-Claude from the Anita Blake series?
Aidan:
Now that is a powerful vampire. I want to be able to do that thing with my voice so everyone does what I say. I think he can fly too. Can he fly?
Mirren:
Nah, he's a total man-whore.
Will:
Mirren, you're coming off like a prude.
Mirren:
Somebody has to be the anti-Will.
Fine, fine. One last question—who's your favorite fictional vampire?
Will:
Why do you need fiction when you can have the real thing?
Mirren:
I'm outta here.
Aidan:
Will? Patrol duty. Now.
And now I'm sitting here alone. Thanks a lot, guys! *Makes note: vampires need to work on their interviewing skills.*
Thanks for having us here at Ex Libris today!



Absolution by Susannah Sandlin

Book #2 in the Penton legacy series

With the vampire world on the brink of civil war over the scarcity of untainted human blood, battle lines are being drawn between the once peaceful vampire and human enclave of Penton, Alabama, and the powerful Vampire Tribunal.

A Scottish gallowglass warrior turned vampire in the early 17th century, Mirren Kincaid once served the Tribunal as its most creative and ruthless executioner—a time when he was known as the Slayer. But when assigned a killing he found questionable, Mirren abandoned the Tribunal's political machinations and disappeared—only to resurface two centuries later as the protector and second-in-command of Penton. Now the Tribunal wants him back on their side—or dead.

To break their rogue agent, they capture Glory Cummings, the descendant of a shaman, and send her to restore Mirren's bloodthirsty nature. But instead of a monster, Glory sees a man burdened by the weight of his past. Could her magic touch—meant by the tribunal to bring out a violent killer—actually help Mirren break his bonds and discover the love he doesn't believe he deserves?

It's a town under siege, a powerful warrior in a battle with his past, and one woman who can make the earth move—literally—as the Penton Legacy continues.


Susannah Sandlin is the author of paranormal romance set in the Deep South, where there are always things that go bump in the night.

A journalist by day, Susannah grew up in Alabama reading the gothic novels of Susan Howatch and the horror fantasy of Stephen King. (Um…it is fantasy, right?)

The combination of Howatch and King probably explains a lot. Currently a resident of Auburn, Alabama, Susannah has also lived in Illinois, Texas, California, and Louisiana.
Find Susannah at her website / Twitter / Facebook / Goodreads
Commenters from the tour will win:
1 Kindle Paper White
(or
$100 U.S. gift card to Amazon, B&N, or Book Depository
winner's choice),
5 signed print or audio copies of
Absolution
(winner's choice of print or audio)
To be entered just fill out the form below:
a Rafflecopter giveaway
Giveaway is open worldwide and ends on 31 October 2012!
Good luck!