Today I'd like to introduce you to
Natalie Anderson
who besides being a veteran romance author published by Harlequin is celebrating the release of her second Entangled book:
Flirting to Win
, a romantic anthology of 3 heart-warming and steamy novellas centred around London, the Olympics and three couples falling in love! Please give Natalie a warm welcome and read on to get a first taste of the three stories.
Stella: Hi Natalie, welcome to Ex Libris! Can you please tell us a bit about yourself?
Natalie:
Hi Stella! Thanks so much for having me here! :-) Hmmm, what to tell? I'm a New Zealander, I live in Christchurch (which is in the South Island, not anywhere near Wellington, the North Island city where Peter Jackson makes his awesome movies. But in good news, Christchurch is not far from the awesome mountains and countryside that he does film for some of those epic scenes). I've a gorgeous hubby and four also gorgeous kids. I sold my first novel to Harlequin Mills and Boon six years ago this month and I've gone on to sell another twenty-three novels and novellas since. Life is full on busy but I consider myself to be so lucky to be able to do something that I love so much for a living.
Stella: Your latest stories, 3 novellas (Bargain in Bronze, Seduction in Silver and Gamble in Gold) were published in an anthology (Flirting to Win) by Entangled Publishing in their Indulgence, category romance line, congratulations! Can you tell readers what they can expect of this anthology and the novellas?
Natalie:
Thank you so much! OK, so
Flirting to Win
is an anthologoy comprising the three novellas as you've said. They're all set in London in the summer (yes, there are some Olympics moments) and they're light, uplifting stories that I hope might make you sigh and then smile at the end. I love writing contemporary, urban set stories with characters who are sparky and who have some sass—and are sensual of course! This anthology is designed to be filled with three differing samples of that kind of story!
Stella: What is the common denominator, the link between these 3 stories, in what way are they connected?
Natalie:
The main link is the setting—London—the characters in each are completely separate from the others in the other stories, so it doesn't matter which order you read them in or anything so that makes things very easy :-)
Stella: Could you introduce the heroes and heroines of the 3 novellas with 3 snippets of dialogue showing their interaction and giving a glimpse of their personalities to the readers?
Natalie:
Here's an excerpt from
Gamble in Gold
—Lexie's camping at Luke's apartment while he's supposed to be away for a month… except he's come home early due to injury and surprised her in her negligee... now the question is who's getting the sofa…
She lifted her face at the sound of the bathroom door opening.

Oh someone have mercy. He wore nothing but boxers. Blue cotton boxers that showed off his tanned, nothing-but-muscle legs. The big white bandage around his knee stood out, his discomfort obvious as he favored the stronger leg.

"Don't you wear anything else to bed?" She blurted the first coherent thought that sprang to mind.

"I don't usually wear anything at all." He shrugged. "But I thought it would be best under the circumstances."

"What about a T-shirt?" She couldn't look at his body for another second.

He paused halfway across the floor. "It's a hot night."

"Right." It certainly was. "Of course." She clutched the pillow closer to her chest.

"I'm going to sleep on the sofa." She turned her head away from him so not even her peripheral vision could swamp her with a view of all his damn skin.

"No, I'll take the sofa," he said through gritted teeth.

"Not with that knee you won't," she snapped back at him.

Honestly, like she'd do that to him? But he frowned, clearly about to dig in. She lifted her chin and glared at him, holding his equally hard gaze. No longer so shy that she'd break away at any kind of eye contact. She was right about this and they both knew it.

Silence stretched between them. She could see the muscle work in his jaw and the annoyance flicker in his eyes. He wanted to resist? Well, he might be looking lean and mean, but he also looked in pain and she was winning this one. "The sofa might be big, but it's still not big enough for you," she said firmly. "You'd have to crunch up and you don't need that."

He drew in a deep breath and then sighed. The tension in his body eased and he took a couple of limping steps toward the bed. "Nice pajamas," he drawled.

Kitten-stamped pink flannel pj's covered her from her neck to just above her ankles. Darn things always shrank in the wash. But she could be a gracious winner and let him get away with the comment. She was determined to be unaffected by any flirt.

"Thanks."

"You didn't need to change for me," he said, wincing as he took another slow step.

Oh, yes she did. And she shouldn't have taken so long in his room. "I was going to strip—" She coughed to clear the sudden itch in her throat and inwardly cursed the sudden rush of heat in her cheeks. "The bed."

"Don't worry," he chuckled. He glanced up and a wicked look chased away the grimace of pain. "You know, my bed's big enough for four people. We could both be in there and we wouldn't even touch each other." His voice was far too smooth. "It's much more comfortable than that sofa."

Remaining unaffected was impossible.

"Is that how many you usually have in there? Three at once?" she asked snarkily. His bed was huge—a couple could lie diagonally or sideways and still not have feet falling off the end. Plenty big enough for wild monkey sexobatics.

His brows flashed up. "Would that shock you?"
William Levy as Eduardo
In
Seduction in Silver
Eduardo comes to the jewellery store where Nina is working to propose… a plan to get them both through their dreaded evenings. Nina is all embarrassed nerves, while Eduardo with dry amusement, has his eye on the prize…
She welded on her best Shop Assistant Smile, determined not to be disappointed but he looked too at home in this haven for romantics. "I'm used to helping men with their purchases for their girlfriends, wives, lovers, mothers…" she trailed off and sucked up some more stoicism to get through. "Some buy for all those women at once." Yeah, some of the guys even admitted they were there buying for both wife and girlfriends. They were the ones who asked for a bulk discount.

"I only have the mother and she's not in England at the moment," he answered, his attention riveted to her, that breathtaking half-smile not fading any.

Nina had to clear her throat from the army of frogs threatening to invade. "So you wanted to get her a bracelet?"

"No."

Right. Nina's heart clattered as her brain began to work overtime on reasons why he was here. But the one she most wanted to believe just couldn't be real. Maybe she was hallucinating? Was he really walking towards her with that smile and those stunning, sparkling eyes?

"So, what did you want?" Ugh, the frogs had attacked and she was all rasp.

"I was thinking about tonight." He calmly walked over to the cabinet where she still stood frozen—her limbs had yet to recover muscle-power.

She gnawed on her lower lip, holding back the nervous questions so near the surface. Couldn't she fake some cool?

"Do you think you can get out of your prior engagement?" he asked.

Nina breathed out a shard of old, cold pain. She already was out of her prior engagement. She'd called it off with Corey the moment she'd found out. What she had tonight was the face-saving social situation. "I really need to show up. Dignity."

She reminded herself as well as him. "And don't you have a duty to fulfill?"

"What if I have a solution for our problems?" he said, his voice lowering the nearer he got to her. "We could face them together." He leaned closer. "You could be mine."
Chris Hemsworth as Jack
And for
Bargain In Bronze
, here's a quick conversation between Libby and Jack about the 'infamous' muesli:
"The best things need time to get exactly right," she said. "Creating something that tastes exquisite cannot be a rushed process." And yes, she deliberately infused a frisson of tease in her tone.

"Exquisite?" he mocked. "Oats are what you feed horses."

"And international athletes," she pointed out smugly.

"Muesli is not a real meal."

Oh he so wasn't going to win that argument. "When eaten with milk it's a complete protein that will give you a sustained energy release for hours."

"Sustained energy?" He eyed her wickedly. "For hours you say?"

"Absolutely," she held her cool. "It'll make you all Energizer Bunny."

Boldly she met his gaze—refusing to wither under his relentless scrutiny—though her toes were curling tight in her shoes and she was clamping down on the lush melting sensation deep in her belly.

His brows lifted slightly and the corners of his mouth twisted into a smirk. "Do you mind my staying to watch?"

Of course she did. She was far too aware of him watching her every move and making her fat-fingered and clumsy. And hot. "Not at all."

"I guess if I learn how to make it, then he can always have your muesli."

It took a little more than a few stirs with a spoon and a half hour in the oven to make her muesli, but she held back her eye-roll. "You'd make it for him?"

"Is that so unbelievable?"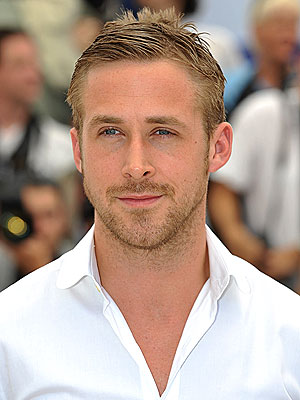 Ryan Gosling as Luke
Stella:
If you could have your dream cast who would play them?
Natalie:
I just find this one SO tough—I know many authors do actually 'cast' their hero and heroine when writing, but this is something I just can't seem to do (I always end up super-imposing the stuff you see in gossip mags about the actor's real life in there!). But, if I have to, then let me go with heroes at least and I'm purely going on the visual aesthetic here… for Jack let's have Chris Hemsworth.
For Eduardo, maybe a brunette and serious looking William Levy?
And for Luke can I have a Ryan Gosling of a couple of years ago...
Thank you!!!!
Stella: When you started out, were you planning on writing 3 stories, or your plans changed/evolved along the way? How did the idea for this anthology start?
Natalie:
I lived for a few years in London and absolutely loved it and I still have family living there. They've been talking about the excitement of 2012 for ages—with the Queen's Jubliee and the Olympics and so on. No place does pageantry and party like London—so I really wanted to set a series of shorter length, sweet'n'sassy novels there. Then I thought about the play on words with the Bronze, Silver and Gold and thought it would be fun to do that as a trilogy and see where it took me. I decided not to have the stories linked other than in setting though—I wanted to try to show totally different facets and how completely different relationships can evolve.
Plus I really did want a gourmet muesli maker in there. Truly. I once met a gourmet muesli maker in an organic supermarket in London YEARS ago. That encounter has stuck with me for years, now she has her story! ;-)
Stella: You have published previously a few dozen novels by Harlequin / Mills&Boon / Riva, why did you decide to seek another publisher and submit this anthology to Entangled?
Natalie:
I'd sold another novella to Entangled at the end of last year—and really enjoyed working with the team there. I'm still writing for Harlequin Mills and Boon and loving it and so proud to be part of their family! But I think this is a very dynamic and exciting time for writers—there is still the traditional print-first model and now an e-only or e-first model, plus the rise of self-publishing of course! I think Entangled is a really exciting company who are doing some awesome things. I also think it's great to get out and experiment with new forms and styles as a writer—in this case it was length for me. It's been a fab experience!
Stella: Can you tell us any behind the scenes secret related to Flirting to Win? (either to the writing process, or some tidbit about the characters, a scene that didn't end up in the final version, etc.)
Natalie:
When I first envisioned
Gamble in Gold
I had quite a different beginning— I had Lexie with another guy in the apartment. It was innocent of course, but set-up for confusion… but in the end it wasn't necessary, so he got dumped!
Stella: Libby Harris', the heroine of Bargain in Bronze, speciality is making her famous muesli. What kind of meal or dessert is your speciality? Any favourite recipe you could share with us? And in your opinion what would make a muesli "famous"? :-D
Natalie:
Well it's all about taste, right?!?! LOL – I know some people might not be that turned on by muesli ;-) But hey, I ADORE the stuff. I've been vegetarian for over twenty-years and I'm a big fan of whole foods and fruit and all that yum stuff. I love muesli that's made fresh with quality ingredients. Trust me, you can taste the difference! The dessert I make most often is for my family and that's my take on apple crumble. It's so easy its ridiculous—stewed apple topped with an oats/cinnamon/sugar/marg crumble mix. I don't even measure the ingredients, I just put the crumble stuff in a bowl and chop it through with a knife until it looks right. Then it's a twenty minute bake in a hottish oven and it's done! My kids love it with ice-cream :-D
Stella: What shall we expect from you, what is next on your schedule?
Natalie:
I've got a release out with Harlequin this month called
Dating and Other Dangers
which is a romance filled with a he said/she said blog war and a dating reputation website at the heart of it. That one was hilarious to write as the characters tried to out do each other—the hero especially was outrageous!
Then in the UK next I have a Mills and Boon release at the end of the year called
Blame it on the Bikini
which is about a text sent to the wrong person… oops!
Stella: Can you share with us some little secret trivia, something that not many people know about you?
Natalie:
Hmmmm, I've never won any of those quirky kinds of contests like pie-eating or anything, most stuff about me really isn't that secret! Ok, here's a lame one—I can raise one eyebrow. Not everyone can do that, you know?! And I'm left-handed. Not everyone is goofy either! ;-)
Thanks so much for having me here today!
USA TODAY bestseller Natalie Anderson writes fun, frisky, feels-good contemporary romance for Harlequin Mills & Boon and Entangled Publishing. With over twenty books published, she's also been a Romantic Times Award nominee & a finalist for the R*BY (Romantic Book of the Year).

She lives in Christchurch, New Zealand with her husband, four children and what feels like a million ducks.



An anthology of the following 3 novellas:




Bargain in Bronze

If you can't take the heat...

Entrepreneur Libby Harris's specialty is making her famous muesli. So when an Olympic hopeful invites her to his flat to make her delicious cereal, she's bewildered when his brother Jack walks in, accusing her of trying to ruin his brother's career. Libby has every intention of staying single, but with Jack around, no way can she suppress the personal pleasure she's long denied herself.

Investment banker extraordinaire Jack Barnes's attraction to Libby is instantaneous, but he's raised his two siblings after their parents died in an accident, and it's been all work and no play for as long as he can remember. He can't let down his guard now--not when his brother is so close to the gold. But keeping Libby busy and out of his brother's life challenges every ounce of his self-control.

Until now...

Neither wants a relationship, and though they can't deny their incredible chemistry, Libby and Jack agree that what they have is temporary. So when things start to sizzle between them, will they be able to take the heat?


Seduction in Silver

A limited engagement...

For two weeks Nina Breslin had passed an enticing stranger when catching the Baker Street Tube to go to work. So utterly sexy, and enticingly foreign, she figures he's eons out of her league--until the day he makes an outrageous proposal.

Dr. Eduardo Ruiz needs a break from the heart-breaking reality of his job. So when he finally introduces himself to the vivacious woman he's been admiring, he quickly realizes they could help each other with their sticky situations...and have great fun in the process.

They agree to an outrageous plan. For one night only, she'll masquerade as his girlfriend to appease his overzealous family members, and he'll accompany her to meet with her ex-fiancé's friends, pretending to be her attentive lover. Can they play by their own rules, or will they succumb to the pull of seduction?


Gamble in Gold

The one that got away...

Seven years have passed since shy Lexie Peterson had her heart trampled by her teenage crush. When she comes face to face with him in London, she vows to stay strong against his charms. But there's something about the man who has always made the impossible seem possible.

When Luke Marchetti walks into his flat to find Lexie in a negligee, all he can think of is having a little flirt and fling. But sweet, caring Lexie is all grown up now, and her determination to keep him at a distance makes him realize she deserves more than he can offer.

One kiss when they were younger ignited a passion that lasted seven long years. But is it enough to entice the two to take a gamble on love?



GIVEAWAY RULES:
Entangled Publishing has generously offered an ebook copy of
Flirting to Win
to a lucky commenter!
All you need to do is leave a comment answering one of these two questions:
Libby Harris', the heroine of
Bargain in Bronze
, speciality is making her famous muesli. What kind of meal or dessert is your speciality?
Which one of the 3 novellas would you like to read the most and why is that?
Giveaway is open wordwide and ends on 19 October 2012!
Good Luck!