I am extremely happy to welcome to Ex Libris a new favourite contemporary romance author of mine I just recently discovered but whose novels I've tremendously enjoyed, please give it up for the wonderful
Nicola Marsh
! Nicola is here today to tell you all about her latest release,
Crazy Love
, a fast paced, witty and sexy small town romance! Crazy Love is only $2.99 now ($0 if you have Amazon Prime Membership!), get your copy now and or read on to see who Nicola can picture starring in
Crazy Love
!
Stella: Hi Nicola, can you please tell us a bit about yourself?
Nicola:
Hi Stella, thanks for having me here. I worked as a physiotherapist for 13 years before starting to write and was lucky enough to be published shortly after. I've published 32 novels with
Harlequin Mills and Boon
, 2 with
Entangled Publishing
, 1 with
Crimson Romance
and young adult novels with
Harlequin Teen Australia
and
Month9Books
. I'm a busy mum too, so yeah, I get by on minimal sleep!
Stella:
Your latest novel Crazy Love was released just recently, congratulations! Can you tell readers what they can expect of it?
Nicola:
CRAZY LOVE
is my first indie-published novel and I'm thrilled with the rave reviews from happy readers. It's an 85000 word contemporary romance set in Love, a small, kitschy town about an hour out of LA. Sierra, the heroine, is a feisty redhead who runs an Internet dating agency. Marc, the hero, is a city-slick alpha hero who meets his match the moment they lock horns. Throw in the romance between Marc's mum and Sierra's uncle, and Marc's butler and Sierra's sixty-year-old Aussie neighbor, and…yeah, there are plenty of sparks in Love!
Photo by Larry D. Moore
Stella:
Do you still remember what inspired the story, was there a specific moment/event/film/song that sparked the idea or how did it all start?
Nicola:
Honestly? I wrote this book in 2004 so it's hard to think back that far. I know small towns in America have always fascinated me, and I find the whole 'married by Elvis in Vegas' thing cute, so I guess I wondered what would happen if there was a town called Love which became famous for just that, helping people fall in love.
Stella:
Could you introduce Sierra Kent and Marc Fairley, the heroine and hero of
Crazy Love
?
Nicola:
I think this snippet shortly after Sierra and Marc first meet sums up their relationship perfectly: fiery, feisty and fun!
"You asked my mother about her sexual preferences?" Marc thrust the forms in her face and she shooed them away like a worrisome mosquito. "What sort of a sicko are you?"

She pushed against the floor with the tips of her pumps and swiveled back from the desk, hands behind her head as she leaned back.

"Nice to see you again, too."

"God-dammit. All I wanted was a little background info from you and I get this?"

He flung the papers on her desk and sank into the chair opposite, shaking his head from side to side. "You're a bigger pain in the ass than I anticipated."

So City Boy thought he could get the lowdown on his mom's relationship from her? Fat chance.

She blew him a kiss and batted her eyelashes. "Flattery will get you everywhere."

There it was again, the slight upturning at the corners of his mouth when she thought he'd give her a double-shot of that grizzly temper.

"If you extend those muscles around your mouth a fraction more you might actually crack it for a smile some day soon."

She flashed a dazzling smile as a demo.

"Are you this smart-mouthed with everyone who comes in here or is it just me?"

"It's you."

She wiggled her fingers in a cheeky wave, enjoying herself more by the minute, while he rubbed his temples as if staving off a blinder of a headache.

"What a frigging mess."

Bummer, just when she was getting warmed up to hurl some real insults his way, he had to tug on her heartstrings with his rendition of a man with the weight of the world on his oh-so-broad shoulders.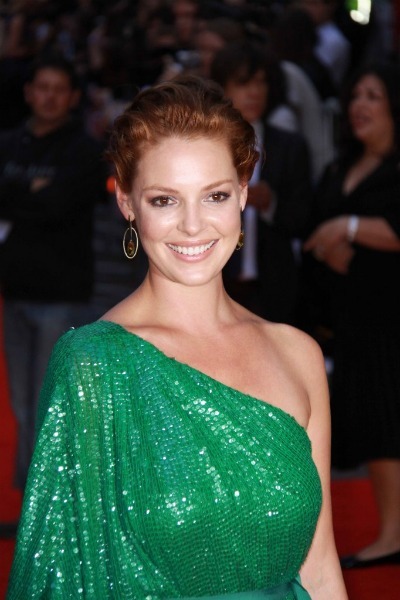 Katherine Heigl as Sierra
Stella:
The premise of
Crazy Love
sounds like the perfect romantic comedy film, who would play the characters if you could have your dream cast?
Nicola:
I always find casting questions incredibly hard, because I couldn't cast the hero without personally interviewing every hottie in Hollywood at the moment.
If I had to choose, I'd say Katherine Heigl (with red hair) for Sierra and Gerard Butler for Marc. (Who am I kidding? I'd cast Gerard Butler in any film if I got to vet him personally!)
Robert De Niro would play Hank, Meryl Streep for Olivia. Judi Dench would play Flo, Bill Nighy would play Will. And Reese Witherspoon would play Belle.
Oh my, this is FUN!!!
Gerard Butler as Marc
Stella:
And now let's have Couple's Therapy: Marc, Sierra,
If you had to introduce each other, what 3 words would you use to describe the other?
MARC:
Sierra's stubborn, opinionated, pain in the ass
SIERRA:
Marc's interfering, overconfident, pain in the ass
Stella:
What is the quality that you like the most in the other and the one that drives you up the wall?
MARC:
Love her boldness. Her temper drives me up the wall.
SIERRA:
Love his ass. Can tolerate any foibles for that.
Stella:
What was your first fight about?
SIERRA:
The moment he barged into my office and demanded information on his mother's match. He was like a grizzly with a sore tooth. And PMS.
MARC:
When didn't we fight? She made my life hell throughout the damn book!
Stella:
Was there a specific moment you realized "wow, I just love that person!"?
MARC:
When I opened the jade box in her living room and discovered what she collects in her spare time.
SIERRA:
At the Love Shack, following the confronting call from my mom in Nepal. He gives great comfort!
Judi Dench as Flo
Stella:
Nicola,
Crazy Love
is full of funny and quirky secondary characters who despite being part of the supporting cast still get their fair share of "screen time", did you have a favourite one, or one that you particularly enjoyed writing about?
Nicola:
Flo is my absolute favourite. I love her bluntness, plus she's an Aussie so I'm biased! I also love her insecurities when it comes to having a second chance at love at her age. Haven't we all been insecure about a guy at some point in our lives?
Stella:
Oh I loved Flo too, she was such a riot! :-D Can you tell us any behind the scenes secret related to
Crazy Love
(either to the writing process, or some tidbit about the characters, a scene that didn't end up in the final version, etc.)
Nicola:
Sierra's dad wasn't supposed to play much of a role in the book but during the revision process with my agent at the time, not only did he drive a specific scene he kinda stole it inadvertently. (Can't say more…spoiler alert!)
Stella:
Can you summarize
Crazy Love
for us Twitter-style (140 characters or less)?
Nicola:
Small town romance, big time laughs! Fast-paced, fresh, fun & hilarious…welcome to Love!
Stella:
Nicola, you have published 35 romances previously, most of them published by Harlequin, and one by Entangled Publishing, why did you decide to self-publish
Crazy Love
In what way was the release of this book different from what you are used to now that you were in charge of everything?
Nicola:
Being in control is incredibly liberating!
I pulled this book from submission with several publishers because I've avidly watched the indie-pub revolution and felt the timing was right.
Being able to choose the perfect cover, choose marketing wisely, decide on release date, etc…was empowering.
Watching it shoot up the ranks and become an Amazon bestseller even more exciting!
Stella: I bet! :-D Congratulations again.
Any chance we'll go back to Love to revisit Belle and see her happily ever after? *hint hint* ;-)
Nicola:
I can categorically say Belle WILL get her HEA. I have a synopsis and a title and a cover pic. The words will follow shortly. It promises to be just as much fun as Sierra's story. I can't wait to fall in Love again!
Stella:
Can you tell us what we shall be on the lookout, what shall we expect from you, what is next on your schedule?
Nicola:
This month I have a Harlequin Romance release,
WEDDING DATE WITH MR WRONG
, plus a re-release of a favourite book of mine,
GIRL IN A VINTAGE DRESS
.
I also have my first category romance with Crimson Romance (a division of Adams Media),
FALLING FOR FLYNN
, releasing, a secret baby/reunion/military story.
And if you love snappy dialogue and lots of sizzle,
NOT THE MARRYING KIND
, my Barnes & Noble and Amazon bestselling category romance with Entangled, is still available online. As is
BUSTED IN BOLLLYWOOD
.
Stella:
Can you share with us some little secret trivia, something that not many people know about you?
Nicola:
I held out on buying an e-reader for so long because I'm a book sniffer. Yeah, I'm addicted to the smell of new books. Sssh…don't tell anybody!
Thanks again, Stella.
I'm giving away a copy of
CRAZY LOVE
to one commenter who answer this question:
if you had to cast a strong, commanding, alpha hero, who would you choose?
USA TODAY bestselling author Nicola Marsh writes flirty fiction with flair.
She's had 32 books published with Harlequin Romance and Presents series, a fun, flirty contemporary mainstream romance
BUSTED IN BOLLYWOOD
with Entangled Publishing (nominated for Romantic Book of the Year 2012) and sold over 3 million copies worldwide.
Her first category romance for Entangled Publishing's Indulgence series,
NOT THE MARRYING KIND
, released July 2012 and is a Barnes & Noble and Amazon bestseller, with another category contemporary romance
FALLING FOR FLYNN
releasing with Crimson Romance October 2012.
Her urban fantasy young adult novel SCION OF THE SUN releases November 2013 with Month9Books, with her young adult thriller VIRTUAL INSANITY releasing with Harlequin Teen 2013.
A physiotherapist for thirteen years, she now adores writing full time, raising her two little heroes, sharing fine food with family and friends, and her favorite, curling up with a good book!
She loves interacting with readers so you can find her:



Crazy Love by Nicola Marsh All's fair in love...and matchmaking! Sierra Kent doesn't do love.

While she embraces the quaintness of her home town Love and delights in matchmaking her clients through her Internet dating agency Love Byte, she doesn't trust her intuition when it comes to the one emotion that has repeatedly let her down.

City-slick Marc Fairley, CEO of LA's premier acquisition company, doesn't have time for Love.

From the minute he enters the kitschy town he can't wait to hotfoot back to LA with his deranged mother in tow.

Instead, he gets roped into the town's Love Fest hoopla, investigates the shady farmer his mom is engaged to, berates his butler for a mad crush on a brash Aussie waitress, and finds himself falling for the brazen red-head who continually baits him.

His life couldn't get any crazier.

Until he discovers in exacting revenge on his father and achieving his lifelong goals, he may lose the one thing he values most...

Can Sierra and Marc create enough sparks to send Love up in flames? And prove that winning isn't everything in the love stakes, it's how you play the game.
Nicola has generously offered an ebook copy of
Crazy Love
to a lucky commenter!
To be entered just leave a comment and tell us: if you had to cast a strong, commanding, alpha hero, who would you choose?
Giveaway is open worldwide and ends on 12 October 2012!