It's no secret that I love fairytales and am a big fan of Nadia Lee's stories, so when I heard she would release a new fairy tale retelling story, after how much I enjoyed her funny
A Happily Ever After of Her Own
I was excited! Today Nadia stops by to tell us about the inspiration behind One Kiss, her latest fairy tale retting. Please give her the warmest welcome and you could even win yourself a copy! :-)
Making it Yours
by Nadia Lee
Normally when I sit down to do some type of retelling, I usually think of my favorite stories first:
Cinderella
,
Beauty and the Beast
,
Snow White
and so on. (And I really think that
Cinderella
is the most popular story of all, since the core story is retold in every major region I can think of.) But one story that I'm not too crazy about--but many people seem to love--is
The Frog Prince
.
Not that there's anything wrong with werefrogs. (Hey, wereamphibians can be sexy too...) But what I didn't like was the choice of heroine for the tale: the princess who had to be forced into honoring her promise to the frog. Her father the king had to force her to keep her word, and it made her appear petulant, uncool and outright infantile. So when the werefrog-price was restored to his human form and married her, I couldn't help but think, "Eww! You can do better than her!"
Just imagine if you were in such a situation. You did something for a guy who promised to compensate you in return. But once you've held up your end of the bargain, he refuses to hold up his and runs off...at least until his mother catches him and makes him pay up. Would you find such a guy worthy of your love? Would you marry such a guy?
Man, I would kick his most likely flat and unappealing butt as hard as I could.
So for a long time I avoided writing anything based on
The Frog Prince
, until I decided I wanted to retell it and make it mine. After all it is my retelling--my imagination and my sensibilities added to the original. My Prince Werefrog didn't have to fall for a liar. And since the princess was an adult, she didn't need her daddy telling her what to do. She could make her own decisions and deal with the consequences. And the Wicked Witch didn't have to be horribly evil. She could be evil in a sweet, satisfying way.
And MY Prince Frog could have a woman worthy of his love.
I hope you enjoy
One Kiss
as much as I loved writing it. I'm also giving away a chance to win a copy to anybody who
comments and tells me about a fairytale they don't care for and what they would change if they could rewrite it.
If you don't have a fairytale you want to change, just share your favorite fairytale to enter the giveaway!
Note:
One Kiss
was written to stand alone, so you don't have to read
A Happily Ever After of Her Own
first. :)
Thank you!

HE IS A LEGEND...

Robert is a royal prince cursed into his current predicament: remain a frog until he can get someone to kiss him...willingly. After years of searching, he finally finds a suitable royal princess.

SHE IS BUT A HUMBLE MAID...

Practical maid to the royal princess, Molly promises to help Robert in return for gold enough to fund her retirement. She doesn't want to waste her youth waiting on someone as capricious and shallow as the princess, instead of living her life.

BUT LOVE KNOWS NO BOUNDARIES...

Unexpected problems unravel Robert's plan. The princess thinks frogs are disgusting, and his evil cousin shows up to steal both the princess and the throne that rightfully belongs to Robert. To compound matters, all he can think about is the quick-witted Molly.

But to undo the curse and inherit the throne, Robert must have a kiss from a royal princess and marry her.

What's a cursed prince to do?

Based on THE FROG PRINCE.

Warning: This title contains the following: Fairy Godmother, a killer punt, porcupines of evil, the Wicked Witch's justice and a happily ever after (or two).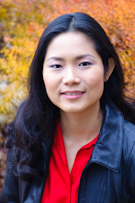 Bilingual former management consultant Nadia Lee has lived in four different countries and enjoyed many adventures and excellent food around the globe. In the last eight years, she has kissed stingrays, been bitten by a shark, ridden an elephant and petted tigers.
She shares an apartment overlooking a river and palm trees in Japan with her husband, baby boy, winter white hamsters and an ever-widening pile of books. When she's not writing, she can be found digging through old Asian historical texts or planning another trip.
Connect with Nadia at:
GIVEAWAY RULES:
Nadia has generously offered an ebook copy of
One Kiss
to a lucky commenter!
To be entered just leave a comment
telling us about a fairytale you don't care for and how you would change if you could rewrite it.
Giveaway is open worldwide and ends on 23 November 2012!
Good luck!