Today I have the pleasure of welcoming
Nadia Lee
back to Ex Libris to tell you about another fairy tale story of hers:
Ashwyn
, which is a Cinderella retelling with an erotic twist! *winks* So read on to discover the inspiration behind this steamy novella, leave a comment answering Nadia's question and you could even win yourself a copy of
Ashwyn
!
Good Eats Is Good for the Muse
by Nadia Lee
I'm a bit of a foodie. I love traveling around the world and sampling what the local people have to offer. I can be pretty adventurous too, though I draw a line at eating worms, fried cockroaches, skewered scorpions and other items that are just completely off my gross tolerance scale.
When I was writing
Ashwyn: Cinderella Retold with an Erotic Twist
, I wanted the titular character Ashwyn (who also happens to be the heroine) to have a job other than just doing general chores around the house, and I certainly did not want her to be covered with ashes at night because she slept near a fireplace to keep warm.
I've eaten pork that was cooked for hours in hot ashes, but I wasn't sure if I wanted her to roast entire pigs since that seemed like unreasonably difficult work for a woman. Then
I read an article about chefs using ashes to cook.
That gave me some ideas. Why should she have to cook pork when she could cook poultry? Chicken, duck, pheasant, goose and other game birds tend to be smaller and thus easier for a woman to manage. In addition, it would explain why she was covered in ashes all day long, but not at night when she sees her prince, since she wouldn't be cooking after everyone had eaten their fill for the evening. And being ash-free at night was perfect for what I had in mind since it's sort of not very sexy to be covered in ashes when you're trying to seduce a man. :)
And the best part about being a writer? I got to make up how Ashwyn cooked poultry in ashes and come up with my own recipe. It was an interesting process since I don't like to come up with new recipes in real life. It seems like too much work to try something new, just to have it turn out badly or have my family not like it.
In modern times I imagine the bird carcass itself would be covered with aluminum foil unless you want to be picking ashes and other gunk off your dinner. Aluminum would have been anachronistic in my story, so I used salt crust. I once had an entire fish wrapped in seaweed (konbu, to be specific) and a salt casing once at a restaurant in Japan, and thought it'd be a perfect substitute. (In case you're wondering, no, the fish wasn't salty at all. It was exceptionally delicate and flavorful. But fair warning: I have no idea if this method really works with poultry.)
The rest of the recipe as I imagined it was a bit more traditional -- herbs and so on for flavoring, nothing fancy. :) You can never go wrong with tried-and-true. :)
To win a copy of
Ashwyn
,
tell me your favorite way to cook poultry
. It can be anything from roasting to baking to making a soup. :)

A long time ago, an evil witch cast a spell on the beautiful Ashwyn, creating a Shroud that made her not only virtually invisible but utterly forgettable as well. She needs a champion to break this curse. But it isn't easy to find a man who is strong enough to both give her carnal pleasure and see through the Shroud to remember their time together the morning after.

She's almost given up hope until the prince of the Realm shows up at her keep. Not only does his mere presence make her skin tingle, but he doesn't seem to want to leave.

Can he be the one she's been waiting for?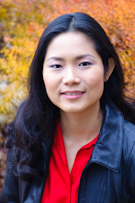 Bilingual former management consultant Nadia Lee has lived in four different countries and enjoyed many adventures and excellent food around the globe. In the last eight years, she has kissed stingrays, been bitten by a shark, ridden an elephant and petted tigers.
She shares an apartment overlooking a river and palm trees in Japan with her husband, baby boy, winter white hamsters and an ever-widening pile of books. When she's not writing, she can be found digging through old Asian historical texts or planning another trip.
Connect with Nadia at:
GIVEAWAY RULES:
Nadia has generously offered an ebook copy of
Ashwyn
to a lucky commenter!
To be entered just leave a comment
telling us about your favourite way to cook poultry.
Giveaway is open worldwide and ends on 30 November 2012!
Good luck!