Although I have seen her name mentioned on blogs I only discovered
HelenKay Dimon
's stories this holiday season when I read her novella, We'll Be Home for Christmas, in the Carina Press Romancing the Holiday anthology and loved it. So I knew she is an author I'll be reading more from. Well I'm happy to welcome HelenKay to Ex Libris and join her in celebrating the release of
No Turning Back
, the first book in her new series about the Hanover brothers! Join us a HelenKay introduces you to the characters and you could even win a copy of
No Turning Back
!
Thank you for having me here today to talk about my newest release,
NO TURNING BACK
. This is the first book in a new series called
The Hanover Brothers
. It follows the sons of a notorious con man, Charlie Hanover. Think Bernie Madoff but bigger in the sense that the father's scams include pyramid schemes, charming wealthy women out of their bank accounts and jewelry, and outright stealing. He's a bad man but he's dead and now his sons are left to clean up the mess and wade through Charlie's lies.
There was just something about heroes with such fractured backstories that intrigued me. I wanted to write about the bond the brothers share and the way they handle everything that's thrown at them. They grew up in dysfunction and were torn apart thanks to their father's actions, but they're together now as they try to figure out what to do with the house they inherited from their grandmother.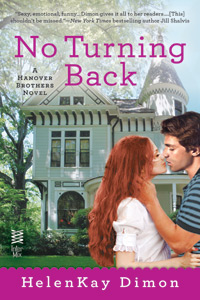 First up is
NO TURNING BACK
and the middle son, Declan. He's out of the Army and ready for a new life. Enter Leah...the daughter of one of Charlie's first victims. She was raised to hate the Hanovers and taught to seek revenge for the loss of her mother and her family's house. So, naturally, these two meet and the attraction sparks.
She doesn't trust him. He's wary of her. Their pasts are on a collision course. And isn't that the best way to start a romance? Well, the type in a romance novel.
Here's a little peek at what she sees when she first meets him, before she knows who he is:
The man behind Mallory got up and turned around. The muscular build and close-cropped dark hair suggested military. The faded blue jeans and broad shoulders straining against the seams of a navy T-shirt said he was good at whatever he did—lifting cars, wrestling tigers . . . something that required the impressive biceps peeking out from under those short sleeves.
And here she is a minute later when she does know his identity:
High cheekbones and dark brown hair with that wide grin. His eyes actually twinkled. Had to be some sort of drops or something, because no way was that sort of thing natural. And she'd bet that practiced smoldering look of his lured more than one innocent woman to bed. Probably made them hand over the bank accounts and family jewelry as he unhooked their bras.
And here's his first impression of her:
She had huge gray eyes and wore a strangely sexy don't-mess-with-me scowl. Add to that the slim dark jeans and a yellow shirt held on her tan shoulders only by thin straps and things were looking up. Well, except for the part where she made it clear she thought he was a scum-sucking criminal.
The poor things never stood a chance of staying away from each other. ;-)
No Turning Back by HelenKay Dimon

Book #1 in the Hanover Brothers series

The Hanover brothers inherited some bad behavior from their con artist father. Now three strong women will make honest men out of them.

After ten years in the Army and four overseas deployments, Declan Hanover is ready for life away from a military base. Sweetwater, Oregon, a sleepy coastal town, seems like the perfect place to start over. His plan is to work out a deal with his brothers and the bank to let him keep the estate they've inherited, Shadow Hill. But he wasn't prepared for Leah Baron, whose family lost everything to his father's cons—including the house Declan intends to make his own…

Leah thinks Declan is just like his conman father. He possesses a bad boy charm that makes her heart pound, but that doesn't mean she can trust him. All she wants is to get close to him so she can get her house back. But Declan has other ideas. He doesn't mind being in close proximity to Leah—as long as it's in the bedroom…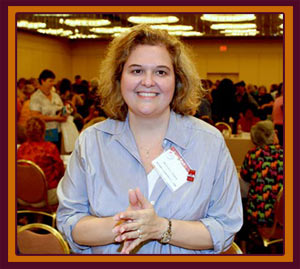 HelenKay Dimon is an award-winning author of more than a dozen novels and novellas. Her first single title, Your Mouth Drives Me Crazy, was excerpted in Cosmopolitan magazine in August '07 and spotlighted at E! Online. She made Cosmopolitan a second time in December 2009 with her novella "It's Hotter At Christmas" from the Kissing Santa Claus anthology. Her books also have been published by Doubleday Book Club and Rhapsody Book Club and translated into several languages.

After twelve years as a divorce lawyer specializing in unhappy endings, HelenKay now writes romance for a living. The sudden career change resulted from her husband getting one of those "can't turn it down" job offers. With only a few months' notice, his work took the family from Maryland to their current home in California. So, instead of days filled with court, clients and a great deal of whining and complaining, HelenKay now writes for a living. She thinks of herself as a "recovering lawyer" and is grateful every day for the ability to write full time.
You can find HelenKay at
GIVEAWAY RULES:
HelenKay has generously offered an ebook copy of
No Turning Back
to a lucky commenter!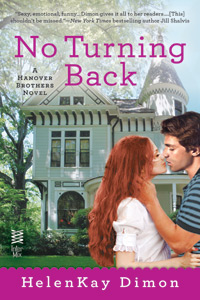 To be entered just fill out the Rafflecopter form below:
a Rafflecopter giveaway
Giveaway is open worldwide and ends on 5 April 2013!

Good luck!