Today I have the pleasure of welcoming back to Ex Libris,
Robyn DeHart
, who is celebrating the release of her latest book:
The Secrets of Mia Danvers
, which is the first in her brand new
Dangerous Liaisons
HR series. To get to know
The Secrets of Mia Danvers
a bit more about read on as Robyn reveals some secret ridbits and you could even win an ereader or a $120 USD gift card! :-)
Thanks for having me today and participating in the blog tour!
One of my favorite things as a reader is to learn some of the background information behind the book. I love to know what inspires other writers. So I thought it might be fun for y'all if I shared some insider info on
The Secrets of Mia Danvers
. Here are 5 tidbits about the book.
1. I've had a lot of people ask me what inspired me to write a blind heroine and I so wish I some interesting reason. All I can tell you is that I was on a morning walk on our local greenbelt and I knew I wanted to write an historical romantic suspense. So I was thinking about that, ruminating on some possibilities and all of a sudden it hit me – what if Jack the Ripper didn't stop killing in 1888? What if he kept going and what if there was a witness to a murder. Mia was that witness and she just came to me, already blind and I just ran with the idea.
2. I wrote the bulk of this book listening to the soundtracks from
The Wolfman
and
Jane Eyre
– two movies I haven't seen, but I found the music from them provided a great backdrop to Jack the Ripper's London. That being said, the country song,
Are You Going to Kiss Me or Not
by Thompson Square became a bit of a theme song for Mia's character.
3. This book was, by far, the most difficult book I've ever written. Not only was it simply more challenging (it's the longest and most complex of my books) but I wrote it under unusual circumstances. My husband and I became parents overnight through foster-care and learning how to be a mom to a baby and a toddler was, well, it was a steep learning curve. Great time to write a difficult book, don't you think? :-) BTW, we adopted those girls and we're now a forever family!
4. I wanted to make sure I wrote a great suspense, but I couldn't do so at the expense of the romance. I know my readers read me for the romance so I had to make sure to create a hero worthy of Mia Danvers. That hero came in the form of Alex Foster, Duke of Carrington. He's proper and loyal and determined and oh-so-sexy and though he tries not to, he falls hard for Mia. I found a great picture of Hugh Jackman to use as inspiration…
Hugh Jackman as Alex Foster
5. As a reader, I love reunion stories, but as a writer, I find them quite challenging. Still I'm drawn to them so when it came time to the secondary romance subplot, I knew I wanted to write a reunion story. I don't want to include any spoilers so I'll simply say that writing their story was so gratifying. I fell in love with that hero and his plight and cheered for him as he tried to win back the love of his lady.
Do you like to get behind the scene tidbits on the books you're reading? Do they ever make you want to read a book?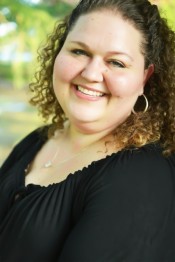 IA life-long love of stories and adventure, it was either become a stuntwoman for the movies or live out those adventures from the safety of her PJ's and computer. Award-winning author, Robyn DeHart chose the latter and couldn't be happier for doing so. Known for her unique plotlines and authentic characters, Robyn is a favorite among readers and reviewers. Publishers' Weekly claims her writing to be "comical and sexy" while the Chicago Tribune dubs her "wonderfully entertaining." Robyn is an award-winning author as well as being a four-time RT Bookclub Reviewers' Choice award nominee, and a three-time RomCon Reader's Crown nominee. Robyn lives in Texas with her brainy husband, two precocious little girls and two spoiled cats. You can find Robyn online at The Sisterhood of the Jaunty Quills or Peanut Butter on the Keyboard, ans also on
The Secrets of Mia Danvers by Robyn DeHart

Book #1 in the Dangerous Liaisons series

A lone witness finds her protector…

Since losing her sight in a childhood accident, Mia Danvers has resided in a small cottage on the vast Carrington estate. Thought to be dead, Mia lives a life of virtual seclusion—until one night, while walking home, she happens upon a horrendous crime.

Alex Foster, Eighth Duke of Carrington, lives according to society's expectations for him. He's never met the woman who lives in the cottage at the edge of his property. But when she arrives at his door in the pouring rain terrified and claiming she has witnessed a murder, she seizes his attention.

Mia is determined to help the authorities track down the culprit, even though the only person willing to accept her aid is the handsome, arrogant duke. Working closely together proves difficult as Mia's beauty and independence tempts Alex to ignore convention and follow his desire. But what neither of them know is that this murderer has struck before in Whitechapel, taunting the British press only to vanish—a ruthless killer who knows that Mia is the only living witness to his crime…




Robyn DeHart is giving away winner's choice of the following: Amazon Paperwhite - Nook Glow - or a $120 Gift Card for Amazon or Barnes & Noble to a lucky reader!
To be entered just leave a comment answering Robyn's question:
Do you like to get behind the scene tidbits on the books you're reading? Do they ever make you want to read a book?
Good luck!