Hope you all had a wonderful and merry Christmas! To continue with our festive celebrations I am happy to welcome to the blog the lovely
Nadia Lee
, who will tell us all about how they celebrate Christmas and the holidays in Japan! :-) So please take a seat, read on and you could even win a great novel! ;-)
Holiday 2013 at Casa Nadia
by Nadia Lee
Holidays are big deal everywhere, and where we live is no different. :) But we live in Japan, so we don't get to celebrate holidays the way our friends and family in America do. Instead this is what we did and plan to do this holiday season.
For Thanksgiving this year (Nov 28), I made a big pot of nabemono. It's a hotpot dish that's great for winter because it's warm and delicious. My son, who is two years old, eats veggies and tofu cooked in nabemono, so it's a great way to get him to eat nutritious food. (Yes, I'm a super sneaky mom!) You can see the chanko nabe I made for Thanksgiving. (The Chinese cabbage in the pot reduces in size as it gets cooked, so our pot wasn't so overflowing by the time it was done.)
Then some time around mid-December, we went to the illuminations along the big main road in our city. The city does this every year to celebrate the year's end, and it's really beautiful. You can see my son in the picture, looking at a maple leaf-shaped display. We had a great time and enjoyed the lovely views despite the cold. :)
For Christmas (for those of you wondering, this post was written around December 19, so Stella can set things up before Christmas so she can enjoy her holidays with her family and loved ones :) ), we plan to give our son one or two new SIKU cars. He has a bright red one, and it's currently his favorite toy.
My husband is considering getting a massage for both of us on Christmas, which would be quite lovely. (Unlike America, Christmas is a regular work day in Japan. Only the Emperor's Birthday, which is December 23, is a national holiday.) And for dinner, I'm probably going to make roasted chicken with mashed potatoes and salad and cake. It's customary to have cake on Christmas around here. It's called Christmas cake and is quite good.
Then starting December 26, I'll be doing a blog tour to promote my relaunched contemporary romance novel
Vengeful in Love
and its sequels.
Vengeful in Love
was originally entitled
Carnal Secrets
, but I decided to change it and release sequels to the story. :)
I hope all of you had awesome holidays, and I hope your 2014 rocks.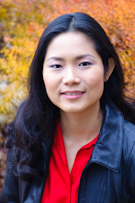 Bilingual former management consultant Nadia Lee has lived in four different countries and enjoyed many adventures and excellent food around the globe. In the last eight years, she has kissed stingrays, been bitten by a shark, ridden an elephant and petted tigers.
She shares an apartment overlooking a river and palm trees in Japan with her husband, baby boy, winter white hamsters and an ever-widening pile of books. When she's not writing, she can be found digging through old Asian historical texts or planning another trip.
Connect with Nadia at:
Vengeful in Love by Nadia Lee

REVENGE IS SWEET...

Self-made billionaire Alex Damon wants his pound of flesh from the people who ripped his family apart. When he discovers his enemies' daughter is working at his company -- and most likely spying for them -- he decides to start his revenge by seducing her. Natalie Hall is stunned at the personal interest from the CEO of her company. Vulnerable, with an already bruised heart, she wants to avoid any involvement -- but she can't deny the desire he arouses in her.

...BUT LOVE IN SWEETER...

What should've been a straightforward eye-for-an-eye starts to unravel as Natalie's unflinching loyalty and kindness begin to thaw Alex's cold intent. But caring for her is unthinkable...since he plans to use everything in his power to ruin her family and everyone else she holds dear.

Previously published as Carnal Secrets.





GIVEAWAY RULES:
Nadia has generously offered a copy of one of her backlist books to a lucky commenter!
a Rafflecopter giveaway
Giveaway is open worldwide and ends on 10 January 2014!
Good luck!