Today I'm really excited to welcome to this year's Let It Snow Books event author
Jennifer Estep
! Her Mythos Academy series is one of my absolute favorite series since the first book was published, and ever since, Gwen's adventures never cease to fascinate me. So, let's give a warm welcome to Jennifer who stops by today answering some of our festive questions :)
Hello Jennifer and welcome to this year's Let it Snow Books event!
JE: Thanks for hosting me on your blog. I appreciate it!
Q: Let it Snow Books is all about the best books we read in 2013. Could you share with us some of your favorite titles for this year?
Q: You're holiday shopping, name a few things you'll buy this year.
JE: Books, of course. LOL. I always buy books for friends and family members. I also try to buy my friends and family members treats that I hope they will enjoy—holiday coffee, chocolates, their favorite candy, things like that.
Q: Could you share with us your favorite holiday meal/dessert/candy?
JE: One of my favorite holiday meals is Thanksgiving, because of the turkey, cranberry sauce, and my mom's dressing.
Q: What would be your (bookish or not) New Year's resolutions?
JE: To make time to read more books for fun. That's always one of my New Year's resolutions every year. I'm really going to try to do it this year. We'll see if I actually succeed or not. LOL.
Q: Let's say you have the chance to spend the holidays with a fictional character, who would that be and what would you be doing?
JE: Good question! I think it would be fun to spend the holidays with the characters from the Harry Potter books and just have a chance to explore Hogwarts.
Q: Can you share with us one of your fondest holiday memories?
JE: One of the things I like most about the holidays is decorating my Christmas tree, seeing all the ornaments, and remembering when and where I got them. I usually decorate my tree on Thanksgiving morning, while the Macy's parade is on. It's just my own little holiday tradition.
Q: What is the best gift, Gwen has ever received for the holidays?
JE: Well, I would say that one of the best gifts Gwen ever received was when Logan gave her a snowflake necklace at the end of Kiss of Frost, the second book in my Mythos Academy series. Gwen and her grandma also exchange snowflake-themed gifts every year, since their last name is Frost, so Gwen thinks that is a fun tradition too.
Thank you Jennifer for stopping by today and Happy Holidays :)
JE: Thanks again for hosting me. Happy holidays and happy reading, everyone!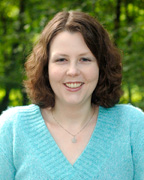 Jennifer Estep is a New York Times bestselling author, prowling the streets of her imagination in search of her next fantasy idea.

Jennifer writes the Elemental Assassin adult urban fantasy series, the Mythos Academy series (urban fantasy series for young adults) as well as the Bigtime series, a tongue in cheek funny superhero paranormal romance series.
To learn more about Jennifer and her books find her at
Midnight Frost

by Jennifer Estep



Here we go again …




Just when it seems life at Mythos Academy can't get any more dangerous, the Reapers of Chaos manage to prove me wrong. It was just a typical night at the Library of Antiquities — until a Reaper tried to poison me. The good news is I'm still alive and kicking. The bad news is the Reaper poisoned someone else instead.




As Nike's Champion, everyone expects me to lead the charge against the Reapers, even though I'm still hurting over what happened with Spartan warrior Logan Quinn. I've got to get my hands on the antidote fast — otherwise, an innocent person will die. But the only known cure is hidden in some creepy ruins — and the Reapers are sure to be waiting for me there …






GIVEAWAY RULES:
Jennifer is generously offering a copy of
Crimson Frost
and
Midnight Frost
to one lucky winner!
All you have to do to enter is fill the rafflecopter form below:
a Rafflecopter giveaway
Giveaway is open to US residents only and ends 4 January 2014!
Good Luck!