Today I am very happy to welcome back to the blog the lovely
Leigh LaValle
, author of
The Runaway Countess
and
The Misbehaving Marquess
, two fantastic historical romances I have both LOVED (as you can see in my reviews of the novel and the novella)! Leigh is celebrating the release of The Rogue Returns the third book in the series, so join us as she tells us a bit more about the heroine of the novel and how much fun it was to write her ;-)
Top Ten Signs my Heroine is Not an Outdoorsy Kinda Girl
by Leigh LaValle
Thanks for having me today, Stella! My newest book,
THE ROGUE RETURNS
, just released last week. It is a regency road adventure in the style of
Romancing the Ston
e and features a silver-tongued rogue, a London-bred lady, a pair of thieves, a stray kitten, and a race through the peaks of England to find a hidden treasure.
I had a lot of fun writing the hero, Roane. He's a ladies man, and loves to flirt and tease the heroine. He is much more comfortable on their horseback adventure than she is, and begins the book at an advantage.
Lady Helen Gladstone is London-bred thru and thru. At the start of the story, she is thrown into the wilds of England with nothing to rely upon but the hero and her own wits. She hasn't even a change of clothes. Can she survive a trek through the peaks of England by horseback? You bet she can. But she's not going to like it. Top ten signs Lady Helen is not 'one with nature':
1. She cannot sleep on the dirt because it is 'dirty'.
2. She refuses to pack away her silk purse and keeps it tied to her wrist, even when she is riding on horseback.
3. She'd rather be cold than sleep in a blanket that smells like horse.
4. She finds a stray kitten and decides she must bring it along for the horseback adventure.
5. She'd rather fix her hem than fish for dinner.
6. She thinks hunting rifles are 'vulgar'.
7. She is terrified of spiders.
8. She doesn't like horses.
9. She hates the idea of freckles.
10. She cannot believe how much fun she is having, out in the woods. And she cannot possibly imagine how much her adventure is going to alter her world.
I am happy to say Lady Helen survives her trek through the mountains, even sleeping in a cave or two. And she finds her own happily-ever-after in the process.
I am curious-
what kind of adventurer are you? Do you like to go camping? Or do you shudder at the thought of no indoor plumbing to be found for miles.
Leave a comment and enter to win a copy of
THE ROGUE RETURNS
.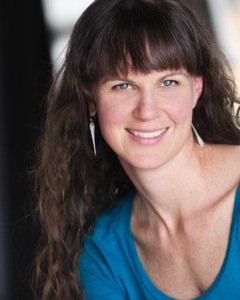 Leigh LaValle was born in a time when ladies shopped at the modiste and rogues sent heated looks across a crowded ballroom. Time slipped forward a few hundred years, and she currently lives in the Pacific Northwest with her family. When she is not writing about said ladies and rogues, mommying, or reading, she is rarely seen cleaning. More often, she is found hiking or, when she is really lucky, in the white powder of the ski slopes. She is also a devoted yoga practitioner and instructor.
You can reach Leigh on her website, blog, Twitter, Facebook and Goodreads.

THE ONLY THING LESS TRUSTWORTHY THAN A ROGUE...

Lady Helen Gladstone has siblings to protect and creditors at her door. There's only one way to stave off disaster—to find the fabled fortune that her deceased brother buried years ago. Her experience with her lying father and gambling brother has left her able to spot a scoundrel at ten paces. Unfortunately, the scoundrel she encounters is a lot closer than that...and he's planning to make off with her treasure.

…IS A LADY WITH NOTHING TO LOSE

After years of exile, Roane Grantham is eager to begin a new life without the law on his heels. First, he needs gold—his gold, buried one drunken night long ago. But he doesn't count on a petite, bold-as-brass blonde laying claim to his hoard.

Forming an uneasy alliance, Helen and Roane adventure through the high peaks of England, battling treasure hunters, violent storms, and dangerous terrain. But can they escape the growing passion that lays claim to their hearts?
Leigh has generously offered an ebook copy of
The Rogue Returns
to a lucky commenter!
To be entered just leave a comment and answer Leigh's question: What kind of adventurer are you? Do you like to go camping? Or do you shudder at the thought of no indoor plumbing to be found for miles.
Giveaway is open worldwide and ends on 1 February 2014!
Good luck!